Cape Coral is the largest city between Tampa and Miami, and its residents and tourists enjoy kayaking, watersports, and outdoor recreation 365 days of the year. Many homes are bordered by 400+ miles of scenic canals, which have earned the City the nickname Venice of America. Now, bicyclists and pedestrians have more options to safely enjoy the outdoors and connect to the community with the opening of Phase I of the City's Shared Use Non-Motorized Trail (SUN) Trail designed by VHB. The Trail, 12 feet in width, includes the City's first pedestrian bridge, situated over Zanzibar Canal, and is part of a statewide network of high priority paved multi-use trail corridors for bicyclists and pedestrians that are physically separated from vehicular traffic.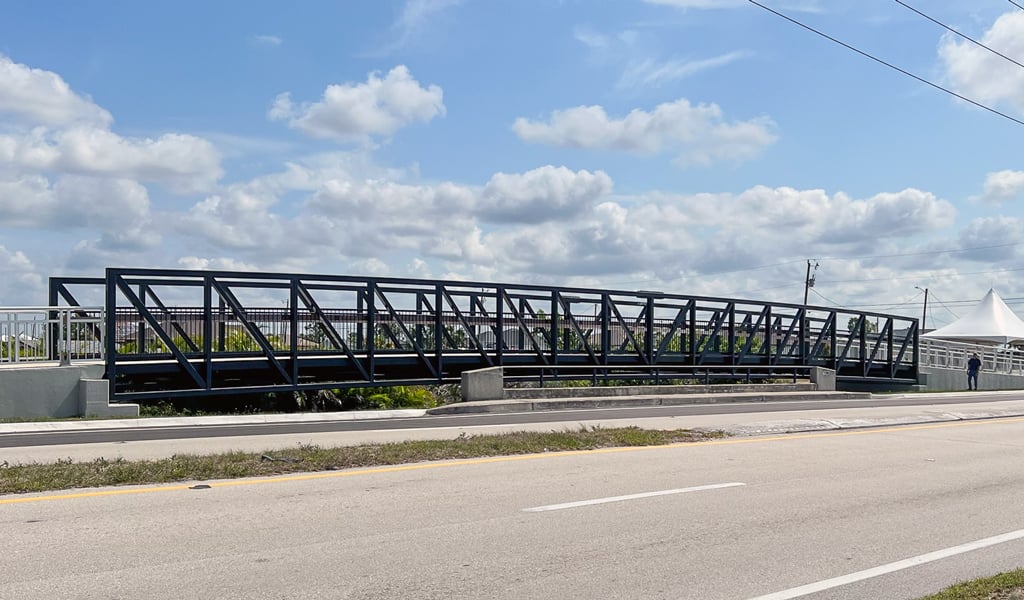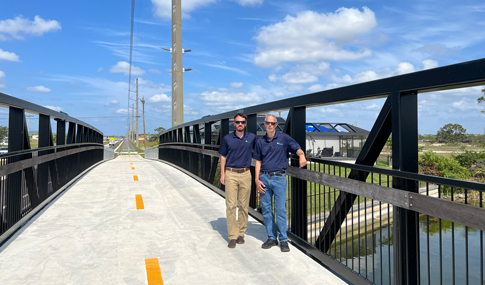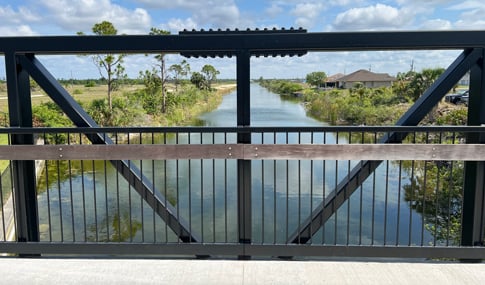 The Kismet Trail Phase I is in North Cape Coral and runs 3.4 miles along Van Buren Parkway, El Dorado Blvd, and Kismet Pkwy between Burnt Stone Road and Nelson Road. It was funded by a grant from Florida Department of Transportation SUN Trail program as a critical link in the Florida Greenways and Trail network. Phase II extends approximately 2.9 miles to Del Prado Blvd and will include two additional pedestrian bridges.
An integrated team of VHB transportation designers, planners, and water resource professionals provided a holistic approach to the project to balance sustainability and safety with aesthetics that enhance the surrounding communities.
Early in the process VHB knew that stormwater drainage would be an issue, especially since parts of the path bisect residential driveways and extreme climate events are concerns in coastal communities. Team member Q Grady Minor & Associates designed a closed drainage network incorporating curb and gutter sections to improve the limited available right-of-way to collect and convey surface runoff.
"The SUN Trail segment provides important links for pedestrians and bicyclists in the City and enhances their established network of bike trails," said Mark Bertoncini, Director of Transportation. "Multimodal paths like these give people safe, sustainable options beyond automobiles. That's more important than ever in a fast-growing community like Cape Coral."
VHB worked closely with state and local agencies, and Pimolmas Tan and Persides Zambrano from the City of Cape Coral, to move preparation of the design and approvals forward. This included developing a Community Awareness Plan to keep stakeholders, such as property owners and the public, aware of anticipated construction and gather feedback to enhance the project.
VHB and team members also provided right-of-way surveys, environmental surveys, trail design, drainage and structural design, maintenance of traffic, utilities, geotechnical investigation, environmental permitting, construction administration and bidding assistance.
Phase 2 of the SUN Trail through Cape Coral is scheduled to kick-off in 2025.
Learn more about transportation planning and engineering at VHB or reach out to Mark via email and LinkedIn.