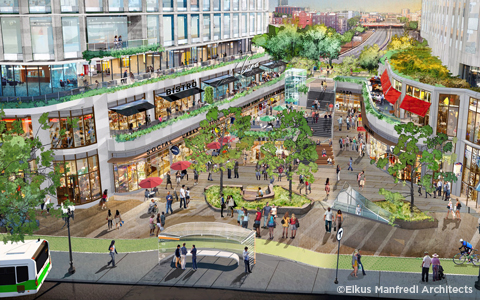 Parcel 12, a transformative air rights development stitching together Boston's Back Bay and Fenway neighborhoods, is reshaping a barren section of Boston's streetscape to support a vibrant, mixed-use community. A unique public-private-partnership (P3) between the City of Boston and developer Samuels & Associates, supported by VHB as lead designer, is bringing 634,000 square feet of office, lab, and retail spaces to the city.
By partnering with Samuels & Associates and the City of Boston, VHB delivered a development that activates its surroundings, repairs the discontinuity in the urban street wall, and greatly improves overall multimodal connectivity at the neighborhood level—all within a complex urban environment. Construction is occurring over an active interstate and commuter rail line. The project is providing new multimodal facilities suitable for all ages and abilities, reestablishing a missing pedestrian link to the subway system, and creating civic plaza space with an elevated public park.
Because of its creative use of partnerships, this project is of particular interest to industry professionals such as the members of The Association of Pedestrian and Bicycle Professionals (APBP), a community of practitioners working to create more walkable, bikeable places. This partnership is helping the city close several multimodal transportation gaps and reestablish a missing piece of the urban street edge. APBP fosters peer knowledge sharing, advances technical expertise, and supports the professional development of members who work in government, consulting firms, and in non-profit organizations in the fields of transportation planning and engineering, urban design and planning, public health, and active living.
VHB's Rick Plenge, PE, PTOE, a longtime APBP member, will kick off the APBP's 2022 Webinar Series on January 19 at 3:00 PM ET with an in-depth discussion of the Parcel 12 project. Rick joined VHB in 2021 as a senior project manager, and focuses on active transportation as VHB's regional service leader in this rapidly evolving segment of the transportation industry. Several key individuals involved in the Parcel 12 project will complete the panel alongside Rick. These include William Moose from the City of Boston Transportation Department, Jill Zick from the City of Boston Planning & Development Agency, and Greg Contente from Samuels & Associates.
Sharing information about this partnership model is important to Rick, who says, "Projects like Parcel 12 and the partnerships established epitomize how we can accelerate the development of our multimodal networks. Contemporary mobility options at their best are mutually supportive of each other, and active transportation really is a core component and not an afterthought or 'nice to have.' Partnerships like those established on this project showcase how public and private resources can be leveraged to close critical transportation gaps. Whether it be through relocation of a highway on-ramp, improving safety at a critical high multimodal crash intersection, reestablishing pedestrian access to the mass transit system, or providing high quality bicycle and transit amenities—all these elements represent opportunities to improve quality of life by better meeting the diverse needs of the population."
Visit APBP for more information regarding this webinar, including how to attend.
For more information related to VHB's Land Development and Active Transportation planning and design, please contact Rick Plenge.