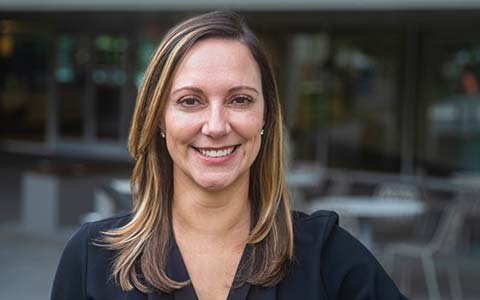 VHB advances growth in the Southeast by welcoming Roberta Fennessy, AICP, as Director of Planning and Design for its real estate and planning practice. Roberta brings a rich background in urban and regional planning, spanning higher education and as a seasoned practitioner.
At VHB, Roberta will play a key role in helping clients throughout the Southeast move projects forward and implement smart growth strategies that promote equitable and sustainable communities. She will direct interdisciplinary teams on a diverse portfolio of real estate, planning, and design projects including work with Orange County, Florida; the City of Orlando; Liberty Investment Properties; and MetroPlan Orlando.
"Roberta understands the value that smart planning and design can bring to future-focused communities, and she joins VHB at an exciting time of growth and opportunity for new projects in the Southeast," said Demond Hazley, Managing Director - Orlando. "Her keen insight into how placemaking impacts the planning and design process will positively impact our communities, making them more sustainable, equitable, and resilient."
Prior to joining VHB, Roberta served as an Associate Instructor at the University of Central Florida's School of Public Administration where she taught the next generation of urban and regional planners. In addition to her background in research and education, Roberta brings two decades of strategic master planning, urban design, architecture, and development experience for both public and private sector clients. Her urban design experience spans local and global markets.
She was instrumental in the planning and design of Downtown Orlando's Creative Village—an urban revitalization neighborhood master plan for Central Florida students, workers, residents, and the neighboring historically Black community of Parramore. Her experience also includes design and leadership roles with leading global design firms where she helped hospital systems develop long-range vision plans for health campuses and guided municipalities on the implementation of master plans.
Roberta received her Bachelor of Design in Architecture from the University of Florida and Master of Science in Urban Planning from Columbia University. She serves on the Parramore Community Engagement Council and is Director-at-Large of the American Planning Association Florida Chapter, Orlando Metro Section. Roberta is a sought-after speaker on topics about placemaking, sustainability, and healthy community design. Connect with Roberta at rfennessy@vhb.com.