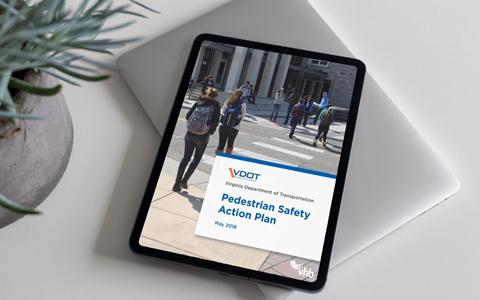 With an increase in pedestrian fatality rates across the State of Virginia since 2012, the Virginia Department of Transportation (VDOT) developed a statewide Pedestrian Safety Action Plan (PSAP) report to identify pedestrian safety concerns, address next steps for improvements, and provide guidance on how to align this plan with additional ongoing pedestrian safety initiatives. VHB worked with VDOT to analyze and identify priority pedestrian corridors and crash clusters, and has partnered with them to update the report every other year since it was first formalized in 2018.
"VDOT's goal for the PSAP report is to proactively guide stakeholders across the Commonwealth on where the pedestrian corridors and crash clusters are that need to be prioritized for safety improvements," said Lauren Blackburn, Senior Project Manager at VHB. "When the location of these high-risk sites is identified every other year, action can follow. Partnering with local, state, and federal agencies allows them to take action in tandem to reach the ultimate goal—minimizing pedestrian injury and fatalities on roadways across the Commonwealth."
To develop the PSAP, crash data was extensively evaluated to determine crash trends across the state. According to the Virginia Pedestrian Crash Assessment, an analysis of pedestrian crashes across the Commonwealth, there are three major factors most present during pedestrian crashes: most occur in urban areas with high traffic volumes; pedestrians are often hit at uncontrolled crossing locations; and the higher the speed, the lower the pedestrian survival rate.
By understanding these trends and identifying the location of the high-risk corridors and crash sites through extensive data evaluation, VDOT was able to prioritize exact locations for improvement and provide safety countermeasure recommendations for each high-risk area. Countermeasures can include a range of options, such as reducing the speed limit, installing lighting and visibility enhancements, and implementing crosswalks, stop lines, curb extensions, and stop or yield signage.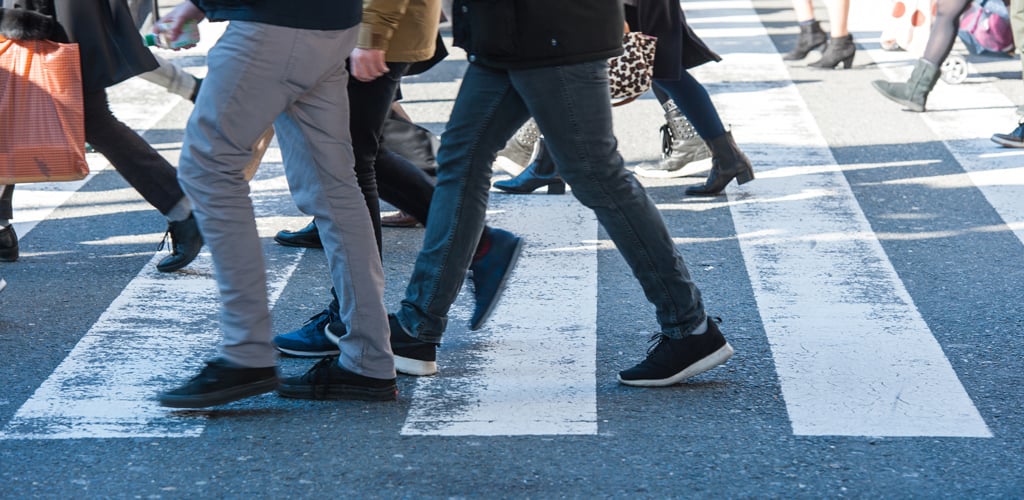 "We consider ourselves fortunate to partner with an agency like VDOT, who prioritizes pedestrian safety and mobility with a forward-thinking and integrated approach," said Chris Daily, VHB's Deputy Contract Manager for VDOT's Statewide Traffic Engineering Contract. "VDOT's holistic view of transportation systems and balance among modes, practice of data-based decision-making and integration of technology, and their collaboration with other agencies, has allowed VDOT to diagnose precise needs for pinpointed locations and allocate funding accordingly—resulting in effective and prompt change."
VHB has worked with federal, state, and local agencies to plan, design, and install pedestrian safety countermeasures. VHB has supported the Federal Highway Administration (FHWA) Office of Safety on various bicycle and pedestrian safety programs, including the Safe System Approach Primer that was published in 2021. We have also partnered with the New York State Department of Transportation (NYSDOT) to develop their statewide PSAP that supports the state's commitment to improving pedestrian safety and help drive investment decisions for the next five years. In addition, we have partnered with the City of Pittsburgh, Pennsylvania, to release their first PSAP in May 2021 and to also design improvements for both bicyclists and pedestrians. With one of the highest rates in the country for commuting on foot, the City of Pittsburgh's PSAP serves as a guide for implementing strategies that promote safety and connectivity among destinations.
October is National Pedestrian Safety Month. Find out more about how VHB is supporting this safety initiative by contacting Elissa Goughnour.