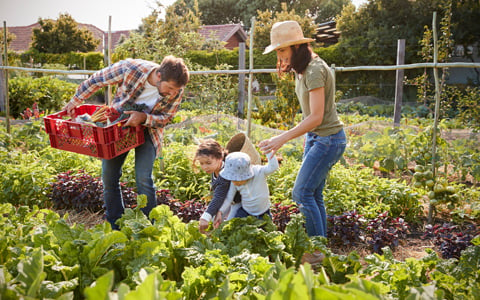 Imagine preparing dinner from a salad you picked with a neighbor at the community garden. Or gathering oranges from a tree on the pedestrian path to your riding lesson at the stables. Now more than ever, people are rethinking the places they want to live, work, and play. VHB is helping developers of The Grow—a 1,200-acre mixed-use community of residential, retail, and learning—incorporate principals of healthy community design with an agricultural and recreational focus. The residential farm and garden community will be the first agrihood of its kind in Central Florida.
VHB's multidisciplinary team of land development, planning and design, traffic and civil engineering, and transportation planning professionals provided guidance to the agrihood's community developers, Project Finance & Development and Marbell Group of Florida, and its homebuilder, Pulte Homes. The neighborhood passed a significant milestone in January 2023 with Orange County Board of Commissioners' approval of the third of three Preliminary Subdivision Plans (PSP)—a years' long effort that elevated environmental concerns with new ideas in sustainable living.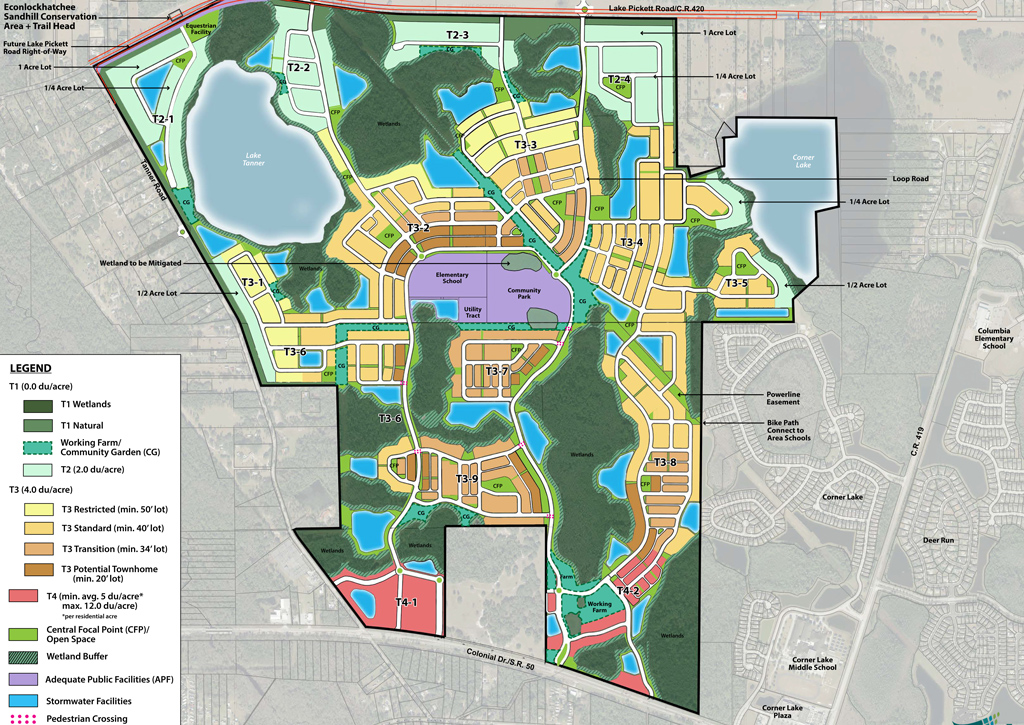 "This was a multi-year integrated services project for VHB that required insight from our land-use planning and transportation engineering teams," said John Prowell, PE, Director of Land Development. "We worked closely with our client, Orange County, and the public to understand and implement their concerns so The Grow reflects community priorities and needs. At least 59 percent of the site is dedicated to green, open spaces like wetlands, buffers, trails, public parks, and agricultural uses."
Agrihoods like The Grow appeal to residents who value sustainable, healthy living with access to the outdoors, fresh produce, and community with their neighbors. Homes in The Grow are designed in a Florida farmhouse vernacular architectural style and situated in neighborhoods steeped in nostalgia and mindful of nature. It is located less than five miles from the University of Central Florida—one of the Top 20 most innovative universities in the nation.
The Grow will feature a network of multimodal pedestrian trails connecting residents and visitors to retail, a nine-acre working farm, community gardens, an elementary school, equestrian center, and a new, 20-acre public park managed by Orange County and open to all residents.
"The Grow is a large and complex project," said Dwight Saathoff, President of Project Finance & Development. "With ground-breaking expected later this year, we are very excited to finally see the fruits of our vision and hard work come to life. The Grow will be one of the nicest and most interesting communities in Central Florida."
In 2016, VHB planners and designers obtained an approval for the zoning of the property through a private Regulating Plan (a first in Orange County) which involved a detailed project-specific Form-Based Code. VHB land development professionals built upon the Regulating Plan to prepare three PSP's that created the framework for a well-balanced development pattern which mitigates impacts to environmentally sensitive areas nearby, such as wetlands and the Econlockhatchee River.
VHB approached the neighborhood's design by combining principles of healthy community design (HCD) and pedestrian-oriented design to encourage an active, engaging lifestyle. Traffic planners maximized pedestrian activity in safe, secure neighborhood streets with little to no cut-through traffic.
VHB also provided signal warrant analysis, traffic studies and turn lane design guidance, including roundabout studies for the neighborhood, which borders heavily travelled SR 50/Colonial Drive. The project notably contributes $26 million in public improvements to SR 50 and Lake Pickett Road via adjacent transportation planning through Orange County and Florida Department of Transportation (FDOT).
The Grow secured VHB to provide additional guidance during the design and construction for the first phase of over 2,000+ residences estimated to begin in 2023.
Connect with John to learn more about how VHB Real Estate can provide guidance at every stage of designing and planning neighborhoods that emphasize sustainable, usable public spaces.