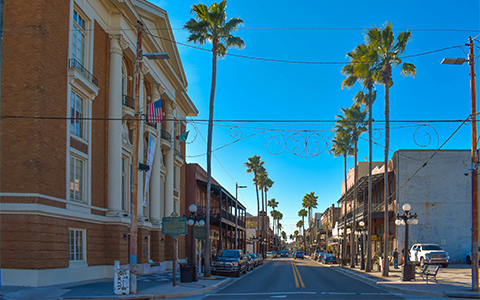 Salt water, cigar smoke, and a steaming bowl of black beans and rice—the aroma of the historic streets of Ybor City, Florida, are as distinctive as its architecture and multicultural population. The 409-acre zone bordering Tampa was once a cigar production hub and is one of only two National Historic Landmark Districts designated in the state. The City of Tampa has invested heavily in Ybor City to preserve its thriving business and entertainment district but needed a plan to preserve it for future generations.
In 2019, the City partnered with VHB to update its Community Redevelopment Area (CRA) master plan and recommend immediate and long-term strategic actions to enhance livability and mobility and attract future investments. The resulting Ybor City 2020 Vision Plan is driven by sustainable economic goals and healthy community research that positions the area for growth while preserving its important history.
VHB utilized stakeholder engagement, real-world case studies, and market assessments to determine the successes and shortcomings within the National Historic Landmark District. The engagement process included electronic surveys, as well as numerous community workshops, outreach at farmers markets, and discussions with tourists, the Ybor City Development Corp, area businesses, and more. A retail market assessment provided data that will guide decisions about first floor conversion trends and locating retail, office, and residential to better serve the community, especially along heavily travelled 7th Avenue.
Recognizing the strong relationships between transportation and health, VHB utilized its Healthy Mobility Model, a GIS-based application intended to analyze land use, urban design, and mobility factors to forecast likely community health outcomes. The Healthy Mobility Model will help Ybor City determine if risk factors for seven different chronic diseases, including diabetes and coronary heart disease, are correlated with existing data published by the Centers for Disease Control and Prevention (CDC). The tool assists in identifying potential at-risk areas which would benefit from improvements like investment in sidewalks and access to fresh food, trails, parks, and mass transportation.
"People are drawn to authentic locations, and Ybor City has that in spades," said Neale Stralow, Project Manager. "Our plan includes recommendations for a district with a variety of mixed-use buildings, parks, and parking options. The data we gathered via VHB's Healthy Mobility Model identified a clear need for expanded grocery and fresh food options, along with increased connections to transportation and mobility options that encourages walking."
As a result of the ambitious plan, the project was recognized with a 2020 Planning & Design Award of Merit from Plan Hillsborough for excellence in planning, design, and execution of the Ybor City 2020 Vision Plan. VHB shares the award with the Community Redevelopment Agency of the City of Tampa, Ybor City Development Corporation, Landwise Advisors, and Open Workshop for Architecture.
To learn more about how VHB's planners and how the Healthy Mobility Model can help communities navigate change, contact Neale Stralow.