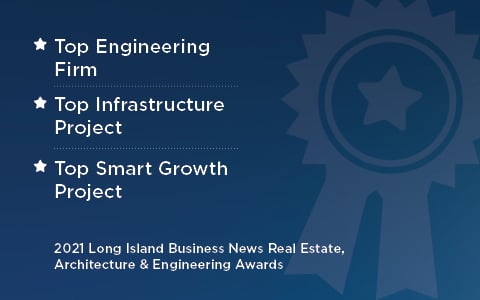 During a virtual ceremony, VHB was announced the winner of three Long Island Business News (LIBN) 2021 Real Estate, Architecture & Engineering Awards: Top Engineering Firm, Top Infrastructure Project for South Shore University Hospital's Parking Garage, and Top Smart Growth Project for 16 Maple in Great Neck Plaza. The awards program honors those who help create and build Long Island's future and recognizes some of the most influential voices in the commercial real estate community.
"VHB performs challenging work across Long Island, partnering with our clients to advance and deliver their projects through teamwork and a collaborative approach. To see VHB recognized in this way by LIBN is icing on the cake," said Kevin Walsh, Managing Director, Hauppauge. "I'm so proud of our entire VHB team and want to especially thank our team leaders who partner with our clients and consultants seamlessly through all the work we do—congratulations!"
VHB is involved in some of the most significant and complicated repositioning projects which are transforming townships and communities, including South Shore University Hospital and 16 Maple Drive. "Being named Top Engineering Firm by LIBN is an incredible honor. Our technical service excellence and understanding of social and political realities continue to make us a go-to firm for real estate developers, and especially for major health care providers," said Terri Elkowitz, Northeast Regional Manager.
At South Shore University Hospital, VHB participated in a Master Plan that significantly expands the facility and its capabilities to strengthen health care in the community. As part of that plan, VHB helped to coordinate efforts, despite an unprecedented pandemic, to deliver a 1,000-car parking garage by partnering with Northwell Health and Ewing Cole to navigate the complex site requirements and land development components.
At the Village of Great Neck Plaza, VHB is partnering with Mojo Stumer Architects, McLaughin & Stern, and Speigel Associates to deliver a planned multi-story, mixed-use building at 16 Maple Drive, a site that has been historically underutilized. The new building will house ground-floor retail and new residential units, as well as add new parking to the site, catalyzing growth for the neighborhood.
Congratulations for recognition at LIBN's Real Estate, Architecture, and Engineering Awards!