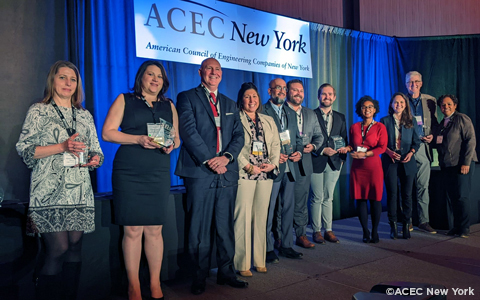 The American Council of Engineering Companies of New York (ACEC New York) has recognized VHB among nine recipients of its inaugural Diversity, Equity, Inclusion & Belonging (DEI&B) Award. The award honors firms who have launched programs and initiatives that attract, hire, and promote personal and professional growth opportunities for women, people of color, LGBTQ+ persons, and underrepresented people in the engineering industry in New York.
"Research tells us that diverse organizations with inclusive cultures are more likely to attract and retain bold, bright, passionate professionals; be high-performing, innovative, and agile; and meet or exceed financial targets. As important as these outcomes are, however, they are not the end game," said Mike Carragher, VHB President & CEO. "At VHB we are committed to sustaining a diverse, equitable, and inclusive organization because only in such an environment can each of us become our best self, growing and evolving through a dialogue of many voices—and elevating our humanity in the process."
VHB companywide Diversity, Equity, and Inclusion (DEI) initiatives including the DEI Steering Committee, College Ambassador Program, Historically Black Colleges & Universities (HBCU) Connect Partnership, Employee Resource Group VHB IDEAL, Unconscious Bias Awareness Workshop, Community Conversations, and VHB Cares (the company's giving back program), all contributed to recognition by ACEC New York. Additionally, employee advocacy initiatives in VHB's New York City office like the Community Justice Agenda (CJA), which provokes thought leadership on topics like public housing's role in reducing poverty, and wealth of equitably-driven client projects helped move the needle in the region for VHB and the industry.
VHB accepted the award at the annual ACEC New York Winter Conference in Albany on Sunday, January 31. The CJA began as a grassroots effort by emerging professionals in VHB's New York City office to start a conversation around how the team would take action in terms of DEI&B and racial justice in the short term. The CJA incorporates principles from the Black Lives Matter movement and builds on VHB's Community Conversations, which take place throughout the year across all VHB offices.
For the full list of winners, visit ACEC New York and visit VHB's Diversity, Equity & Inclusion page to learn more.