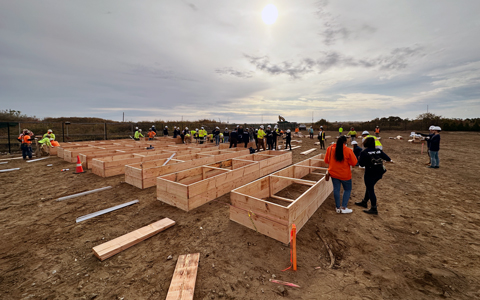 In a step toward a major neighborhood transformation, Arverne East recently celebrated a significant milestone with a vibrant volunteer event at the 116-acre development site in Far Rockaway in Queens, NY. Co-hosted by L+M Development Partners, The Campaign Against Hunger, and VHB, the event saw nearly 60 enthusiastic volunteers come together to build planter beds for The Campaign Against Hunger's future Urban Farm, a key component of the project. This collective effort showcased a shared purpose and a glimpse of what the completed Urban Farm will bring to the neighborhood.
Arverne East, a collaborative development led by L+M, The Bluestone Organization, and Triangle Equities, is set to redefine life in the Rockaways. This ambitious project is transforming a once vacant waterfront site into a vibrant, mixed-use development that prioritizes community health, fosters economic diversity and growth, and bolsters climate resilience and energy efficiency. The Urban Farm, dedicated to sustainable agriculture, will provide residents and the community with fresh, locally-grown produce and a deeper connection to the environment. As the operator of the two-acre Urban Farm, The Campaign Against Hunger will also provide youth development and workforce training through their Green Teen program.
"Arverne East is a shining example of the power of community collaboration and public-private partnerships. The recent volunteer event not only resulted in building structures, but also helping to shape a more sustainable, vibrant future," said David Quart, VHB Northeast Real Estate Market Leader. "As the Urban Farm takes root, it promises to enhance the health and spirit of the Rockaways."
"Arverne East is a transformative development for the Rockaway Peninsula and this event demonstrated just how community-focused the project truly is," said Sara Levenson, Senior Director at L+M Development Partners. "With the help of nearly 60 volunteers, we were able to build planter beds for the Urban Farm which, when completed, will serve as a vital resource for both residents and the community by providing access to fresh, healthy produce. We're thankful for the hard work of our volunteers and look forward to building out more of the community resources that will be available at Arverne East."
Upon completion, Arverne East will include approximately 1,650 homes, the majority of which will be affordable. In addition to the Urban Farm, Arverne East will offer a mix of commercial and community spaces, including a brewery and restaurant, public open spaces, new streets, and parking. The project will also feature a 35-acre innovative public nature preserve and welcome center which are nearing completion. Residents will have access to a redeveloped waterfront, designed with coastal resiliency considerations to combat sea-level rise and flooding.
As an integral member of the project team, VHB provides a wide range of services on this development, including comprehensive civil and environmental engineering and permitting, transportation planning, landscape architecture, and more.
"This project represents a blueprint for future-focused redevelopment, demonstrating how thoughtful planning and design can breathe life into vacant land to foster a dynamic community," David added. "We take pride in VHB's role in making this project a reality and look forward to our continued partnership with the Arverne East team."
To learn more about the Arverne East project and VHB's affordable housing and mixed-use solutions, connect with David Quart.