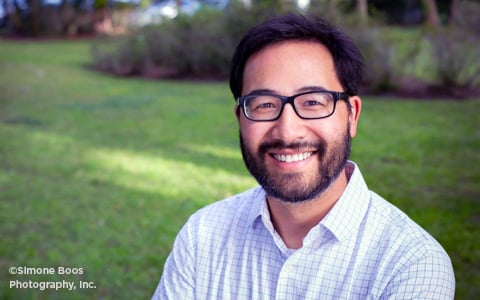 VHB is expanding its smart communities services to leverage the full potential of technology-enabled and data-informed consulting to improve the places where we live, work, and play. The company announced today that Curt Ostrodka, AICP, LEED AP, will lead the practice as Director of Smart Communities. In this new role, Curt will be instrumental in helping public and private organizations leverage smart city initiatives to address pressing issues of sustainability, social equity, and resiliency that are unique to their communities.
"The U.S. is in a transformative season of change, and we must seize this opportunity to help clients and communities. Curt excels at partnering with cities and organizations to identify innovations in technology that can strengthen their communities," said Dave Mulholland, Chief Technology Officer. "Our clients trust Curt as a future-focused leader who transforms great ideas into actions that positively impact our most vulnerable populations and infrastructure."
Curt previously served as Director of Community Planning and led collaborative teams that addressed complex community and mobility planning issues, including comprehensive stakeholder engagement, redevelopment planning, and VHB's innovative Healthy Mobility Model.
VHB clients are already realizing the impact of Curt's leadership through programs like the award winning Parramore Comprehensive Neighborhood Plan and the City of Orlando Future-Ready City Master Plan. VHB developed the Future-Ready City Master Plan in partnership with the City and is supporting the plan strategies, which include helping enact a digital device lending library and creating an Advanced Air Mobility (AAM) Transportation Plan with support from an exclusive aero-research partnership with NASA.
"The convergence of the digital realm and the physical environment creates many new opportunities, as well as unforeseen challenges," said Curt. "Many communities have individual technology pilot projects, but desire a comprehensive program to cultivate meaningful outcomes. Formalizing our smart communities practice gives clients a roadmap for engaging the public and establishing focus areas where innovation and new technologies can have an immediate impact in making places more sustainable, equitable, and resilient. Our integrated services approach means we are by the client's side from start to finish, identifying challenges first, and then putting new programs into action."
Curt is a Leadership in Energy & Environmental Design (LEED) accredited professional by the U.S. Green Building Council and a sought-after speaker on smart community planning and design at conferences across the U.S. He is an active member of the Urban Planning Institute and the American Planning Association. He holds a Master of Science in Urban and Environmental Planning from the University of Virginia and a Bachelor of Science in Natural Resources and Environmental Sciences with Honors from the University of Illinois.
To learn how VHB can help identify and initiate smart community solutions in your city, connect with Curt.