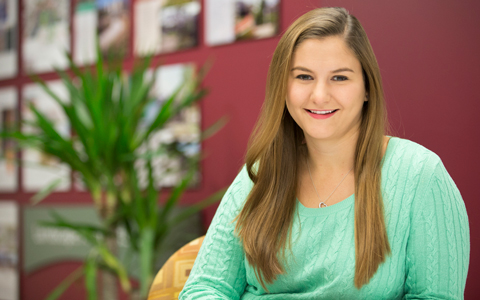 Jill Baumbach, PE, was awarded the Young Professional Engineer Award for 2021 from the American Council of Engineering Companies. The Young Professional Award recognizes the accomplishments of young professionals who contribute to the engineering profession, with a resulting impact on society. The winners of this award go above and beyond, incorporating new technology and ideas into the engineering world.
Jill joined VHB upon graduating from Bucknell University seven years ago. Working within the Water Resources and Environmental department, she quickly made an impact with her peers and the communities she served, leading Jill to pursue her Professional Engineer certification.
Jill's understanding of complex engineering designs is evident in her project work, recently creating a two-dimensional bridge hydraulic and floodplain analysis for the Vermont Agency of Transportation (VTrans).
Emerging as a natural leader, Jill created the Emerging Professionals Group (EPG) at VHB to help mentor, network, and provide career guidance to young professionals, the group provides a place where junior staff can gain insight about the ACEC industry, company resources, and share their own experiences. The group has opened new lines of communication for employees across VHB. Jill says, "Through my work at VHB and in the community, my goal is to provide strong leadership, exercise sound engineering practices, all while promoting a more sustainable future."
Outside of her work, Jill enjoys giving back to the community, recently presenting to the Girl Scouts in Watertown, Massachusetts, on what it means to be an engineer. Jill used fun and interactive activities to engage with the girls and teach them about the engineering professions.
Congratulations to Jill and all the recipients of the Young Professional Engineer award.