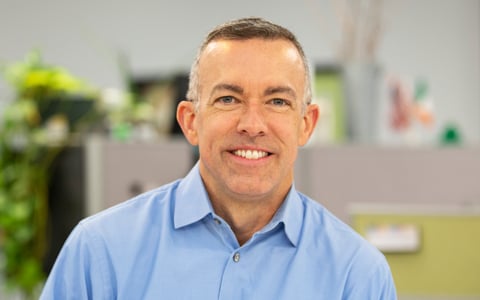 VHB is excited to announce Joe Wanat as the Managing Director for Metro DC, overseeing VHB's Washington DC, and Tysons, Virginia, offices. With rapid growth occurring throughout the Washington metropolitan area and an increase of investment in sectors like transportation, federal government, real estate, higher education, and technology, VHB has been deliberately focused on increasing capacity to support the growth of clients and their future developments in this region. As the former Managing Director of VHB's Providence, RI, office, Joe has been with VHB for more than 27 years and has experience managing and growing a multidisciplinary operation and overseeing complex projects. Joe's experience with equity in transportation, complete streets, regional multimodal planning, and healthy community design will be a strong asset to colleagues, clients, and stakeholders as they continue to advance the economic vitality of the region.
Throughout Joe's career, he has led transportation and mobility projects, as well as robust public outreach, stakeholder engagement, and advisory group facilitation. Most recently, Joe's experience has focused on mobility and active transportation—working with universities, state agencies, municipalities, and local governments to enhance their transportation networks so they are more accessible, equitable, safe, and complete. Joe's recent projects have won awards from the American Council of Engineering Companies (ACEC), Women's Transportation Seminar (WTS), GrowSmart Rhode Island, the American Planning Association (APA) and People For Bikes. In addition to his extensive professional career, Joe has served 32 years with the US Army Reserve and is a Lieutenant Colonel and Battalion Commander.
"Delivering exceptional service to our client partners is our highest priority," said Nancy Barker, Mid-Atlantic Regional Manager. "With VHB's involvement in large, influential projects, like Long Bridge, Crystal City Station, and the Desert Storm and Desert Shield War Memorial, we are supporting numerous state and federal agencies, local governments, developers, transit authorities, and private organizations in identification and navigation of funding, rights-of-way, engineering design, potential environmental impacts and regulations, and communication with stakeholders. The addition of Joe as Managing Director to support and oversee these ongoing efforts will amplify our ability to deliver for our clients. His leadership style embraces diversity, equity and inclusion which is why he is the perfect fit to lead our Metro DC operation."
Mark Colgan, VHB's Mid-Atlantic Regional Transportation Director, served in the Interim Managing Director role prior to Joe's move to Metro DC. Mark will continue to be an integral part of the Metro DC team; remain active and present on transformative projects, such as Long Bridge; and continue to support stakeholders across the region. VHB also celebrated the addition of Justin Dufresne as the new Managing Director of the Providence, RI office.
VHB was ranked 8th on the Washington Business Journal's Largest Engineering Firms list for Greater DC in 2021. Click here to learn more about VHB's Metro DC operations or connect with Joe via email or on LinkedIn.