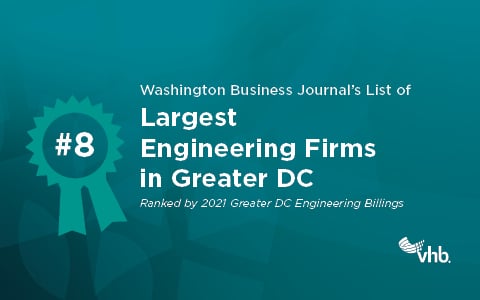 VHB has been ranked 8th on the Washington Business Journal's Largest Engineering Firms list for Greater DC in 2021. The list, based on engineering billings, encompasses a broad range of professional service firms in multiple industries within the DC metro area. The Washington Business Journal publishes the list annually.
VHB is proud to achieve this ranking. With three offices in the metro DC region—downtown Washington, DC, Tysons, VA, and Silver Spring, MD—recent project involvement includes the Long Bridge expansion project, the World War I Memorial, a pedestrian connection to Ronald Reagan National Airport, Children's National Research and Innovation Campus, and the VRE L'Enfant Station Expansion. Each of these projects include engagement with various stakeholders to support them in their commitment to the economic vitality of the community.
"We're so proud to have achieved this Washington Business Journal ranking," said Mark Colgan, Director of Transportation. "With the rapid growth occurring within the region, VHB is laser-focused on increasing capacity to support the growth of clients and their future developments that contribute to creating a cohesive, equitable, and connected metropolitan area."
In addition to celebrating our Washington Business Journal ranking on the Top Engineering Firms list, VHB is also celebrating the 'Transform 66 Outside the Beltway' project being ranked #1 on the Largest Ongoing Transportation Projects in Greater D.C. list. As a teaming partner to Indra USA on this Virginia Department of Transportation led project, VHB is serving as Engineer-of-Record for the design and construction support of the Electronic Toll Collection System, Intelligent Transportation System, and the Fiber Optic Communication System for 23 miles of Express and General Purpose Lanes including 12 interchanges.
Interested in joining a knowledgeable, innovative team of colleagues to work on exciting projects across Metro DC? VHB is hiring. Discover our open positions by visiting the careers page on our website.