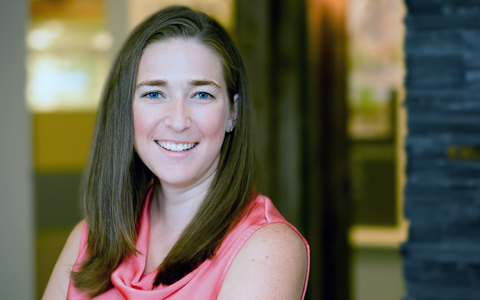 Vermont's engineering societies presented Kelly Barry, PE, a Project Engineer in VHB's South Burlington office, the 2022 Vermont Young Engineer of the Year award recently at the Annual Engineers Week celebration. This award honors a licensed professional engineer in Vermont who not only has excelled professionally and academically, but also has made outstanding humanitarian and civic contributions.
After earning her bachelor's and master's degrees in civil engineering from the University of New Hampshire (UNH), Kelly joined VHB as a Structural Design Consultant in 2013. Beginning with the Middlebury Bridge & Rail Project, to which she dedicated over 5,000 hours, she has made her mark by helping to improve Vermont's infrastructure. Highlights of her work include the design of the 287-foot-long bridge carrying Route 100 over the Deerfield River in Readsboro and the 204-foot-long bridge carrying Route 2—an important link between the Lake Champlain Islands and Chittenden County—over I-89 in Colchester.
Always looking to grow as an engineer and help her colleagues, Kelly has supported a variety of interesting and unique projects across VHB's footprint, and she has begun managing and pursuing her own projects. A mentor to younger engineers, Kelly places great value in her people management role and continues to grow her team. In 2021, VHB recognized Kelly's contributions with a Rising Professional of the Year award.
Outside of work, Kelly continually seeks ways to give back, whether cheering on young runners at the Girls on the Run 5K or refereeing field hockey. Dedicated to promoting the field of engineering, she has volunteered as a mentor with UNH's Diversify Thinking Student Industry Mentoring Program aimed at engaging the next generation of STEM professionals, and has served on the Board of Directors of the Vermont Society of Engineers since 2017.
"Kelly's well-deserved award celebrates what we at VHB have long known and been grateful for," said Dave Saladino, PE, Managing Director, VHB, Vermont. "Since day one, Kelly has enhanced and inspired our team with her eagerness to excel in her work and to invest meaningfully in everyone around her. Our workplace, our clients, and our community have all benefited from Kelly's commitment to advancing the engineering profession and making a real difference in the places where she works and serves."