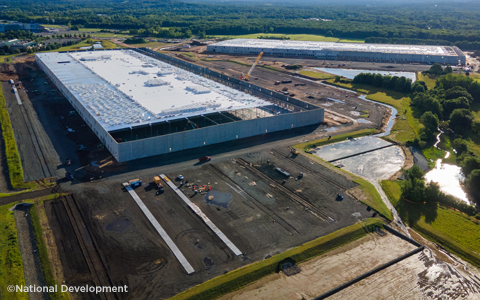 Two new mega-warehouses are starting to take shape at the Hartford Logistics & Technology Park at Rentschler Field. Wayfair, an e-commerce conglomerate, and Lowe's, the country's second-largest hardware retailer, will occupy the new distribution centers, bringing an expected 1,000 permanent job positions to the State of Connecticut.
VHB is partnering with longtime client National Development, one of the largest real estate development and investment firms in New England, on this 2.5-million-square-foot project. Located midway between New York City and Boston, the site offers immediate access to Interstates 84 and 91, making it a prime location. VHB prepared the concept site plan and performed site civil engineering, permitting, traffic, wetland, and other services to expedite securing local, state, and federal approvals.
"It's been great to see these two facilities develop and become a prominent part of the overall project," said Paul Vitaliano, VHB's Director of Land Development in Connecticut. "Being involved in such a significant development like this—one that will have a positive impact on the local community—is really exciting for VHB."
National Development plans to complete both warehouses by early to mid-2024 with tenants receiving certificates of occupancy by April 1, 2024. To learn more about this exciting project, or how VHB can help move your development forward, contact Paul Vitaliano via LinkedIn or email.