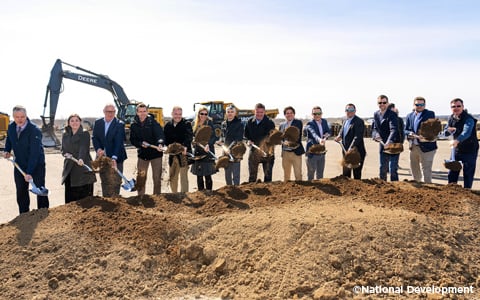 National Development, one of the largest real estate development and investment firms in New England, has partnered with VHB on residential, mixed-use, and industrial developments for more than 20 years. Most recently, National Development engaged VHB when the company purchased 300 acres at the notable and former Rentschler Field airport site in East Hartford, Connecticut. Local officials say it will be a transformational project for the town.
Located midway between New York City and Boston, the site offers immediate access to Interstates 84 and 91, making it a prime location. VHB prepared the concept site plan and performed site civil, permitting, traffic, wetland, and other services to expedite securing local approvals. In addition, a truck management plan was part of the traffic study for managing truck traffic in and out of the site from the highways.
A groundbreaking was held on March 6 for the 2.5 million square-foot project, which is expected to create up to 400 construction jobs and will generate up to 1,000 permanent positions from the initial phase alone, as well as $4 million in new tax revenue annually. VHB joined National Development at the ceremony along with state and local representatives, including Lieutenant Governor Susan Bysiewicz, U.S. Senator Richard Blumenthal, East Hartford Mayor Mike Walsh, U.S. Representative John Larson, and State Representative Jason Rojas.
Early in 2022 at a special meeting of the town council and the public, National Development highlighted the benefits of the project, and the company announced at the groundbreaking that e-commerce giant Wayfair and Lowe's, the country's second-largest hardware retailer, will be the tenants of the two new mega-warehouses. Coupled with the Wayfair and Lowe's distribution centers, the manufacturing buildings will bring fresh development to hundreds of acres that have largely been unused for years.
"VHB has been involved from the earliest stages of this project, focusing on feasibility and accessibility and we're excited to see National Development hitting this exciting milestone," said Paul Vitaliano, VHB's Director of Land Development in Connecticut. "We truly appreciate the opportunity to partner with them, and to be able to put shovels in the ground. It's a proud moment that reminds us why we do what we do."
National Development plans to complete both warehouses by mid-2024.
To learn more about this partnership, please contact Paul Vitaliano via LinkedIn or email.