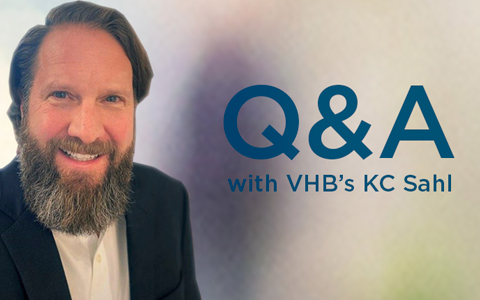 The Biden Administration is advancing offshore wind expansion towards a renewable energy future, which will, in turn, create nodes of supply chain and economic development across the Northeast and along the East Coast.
As developers and authorities prepare to meet the goals put forth by the administration, where does the industry currently stand, and how can VHB help? National Director of Offshore Wind KC Sahl shares his perspective in the following Q&A.
The current administration just released ambitious plans for infrastructure spending, which will require every state to generate 100 percent zero-carbon electricity by 2035. This includes $3 billion in federal loan guarantees for offshore wind development. Are offshore wind developers prepared to address this increased demand? And, how do you think they can position themselves to respond quickly?
Yes, offshore wind developers are prepared to meet this demand. Developers need three primary components to develop an offshore wind farm. First, they need site control. They achieve this through the Bureau of Ocean Energy Management's (BOEM) competitive leasing process. Second, they need a guaranteed power offtake mechanism such as a Power Purchase Agreement or similar Ocean Renewable Energy Credit process. Lastly, they need permits—dozens of them. VHB serves developers and the offshore wind supply chain by leading the federal, state, and local permitting effort.
We help developers look to the permitting process with confidence and certainty. Our deep relationships with community and government leaders help us to understand the issues or answer questions to advance the dialogue, engagement, advocacy, and action to help build communities and infrastructure that will respond quickly to the Administration's goals.

According to the U.S. Energy Information Administration, the country currently generates about 20 percent of its electricity from renewables. Many European countries are far ahead of the U.S. in this respect. With this exciting push towards clean energy, how can the U.S. utilize offshore wind to catch up? And how does VHB help developers meet this increased effort?
With regards to offshore wind, the Federal Government is now working to provide a clear leasing and permitting pathway. This is not to say that any shortcuts are being taken. Rather, the BOEM and other federal agencies are laying out a clear plan and timeline. In addition, they are engaging with all stakeholders, getting them to the table, and incorporating their suggestions and concerns into the process. The U.S. is fortunate that in the Northeast, states have already implemented ambitious renewable energy targets for offshore wind, onshore wind, and solar. VHB can guide developers as they plan their market approach, establish permitting and stakeholder engagement plans, and work directly with federal, state, and local regulators.
As the Federal Government begins to implement processes that further facilitate the development of renewable energy, VHB will continue to assist developers in navigating the regulatory process. Our thorough understanding of the local, state, and federal regulations provides developers with a thoughtful, holistic permitting approach that is not only technically strong and based on sound science but also reflects a deep understanding of the offshore wind market, helping to minimize disruptions in the overall permitting process.
Why is the Northeast such a prime target for offshore wind development?
First, the wind resources are abundant, water depths are relatively shallow, and the sites are adjacent to load centers. Secondly, states have very progressive policies in place that support renewable energy resource, are cost competitive, and recognize the potential to be a strong economic driver. For example, New York State has a mandate to develop 9,000 megawatts of offshore wind energy by 2035, as codified by the Climate Leadership and Community Protection Act. New Jersey's goal is 7,500 megawatts. In addition to providing clean energy, these projects will go a long way towards economic development and addressing environmental justice issues. Offshore wind is a win, win, win.
The New York/New Jersey Bight is a very large area with many competing interests. VHB recognizes the importance for offshore wind developers to engage and partner with all relevant stakeholders groups such as the commercial and recreational fishing industry, marine shipping and navigation, recreation and tourism, coastal communities, and environmental non-governmental organizations, to understand the potential conflicts and work together to develop measures that avoid and/or minimize these potential conflicts. VHB excels at the public engagement process, and we have successfully worked with stakeholders to address their concerns while fulfilling the goals of large infrastructure projects.
Are there potential roadblocks? How can VHB help guide developers through them?
During the development of any infrastructure process, there is the potential to reach many roadblocks. We partner with our clients to engage stakeholders early and often to help minimize possible pitfalls and impacts to overall project schedules. Offshore wind developers recognize that this is especially true for adopting new technology. VHB works with developers to hold meetings, provide information, listen to stakeholders, and address their concerns. For example, VHB has built virtual meeting rooms for stakeholders to listen to, and engage with, information on everything from shipping issues to onshore transmission impacts.
What local supply chain considerations can VHB help developers understand?
For the offshore wind industry to meet the established goals, a robust supply chain must be developed for OSW component manufacturing, assembly, and construction staging, as well as operations and maintenance once the offshore wind farms are operational. VHB's integrated services approach includes transportation planning, engineering design, cutting-edge technological screening and assessment tools, and environmental and construction services that help supply chain and port developers navigate land use, infrastructure, and regulations.
Connect with KC Sahl at ksahl@vhb.com