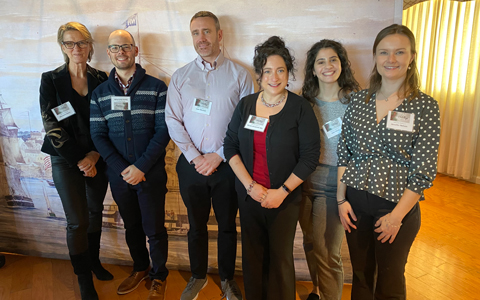 The American Planning Association Massachusetts Chapter (APA-MA) named the Town of Palmer's Master Plan update this year's Comprehensive Planning Award winner. With this award, APA-MA recognizes a plan or program of unusual merit that stands out for its originality, quality, transferability, comprehensiveness, and effectiveness. VHB's Donny Goris-Kolb, Project Manager and Senior Sustainability Planner, accepted the award on behalf of the team during the APA-MA Annual Awards & Holiday Luncheon earlier this month.
"Congratulations to the Town of Palmer on this achievement," Donny said. "It was a wonderful client to work with and stakeholders funneled their passion for their community into an implementable plan for the Town's future, all while taking into consideration its uniqueness as well as sustainable initiatives, climate resilience, and public health perspectives."
Now a model for other municipalities, Palmer's updated Master Plan is one of the first in Massachusetts to incorporate both climate change and public health assessments and recommendations as cross-cutting themes into a comprehensive planning document. Other planners have reached out to Palmer's Town Planner, Linda Leduc, to learn how the Town's Master Plan thoroughly addressed this increasingly critical intersection of climate change and public health. The answer lies in the creative approach to funding and the close collaboration with the Town's regional planning commission that set this award-winning plan development effort apart.
To make this unique planning endeavor possible, the Town saw an opportunity to synergistically tap into several municipal grant funding sources. Working with VHB, the Town used a Municipal Vulnerability Preparedness (MVP) Action Grant to integrate climate resilience and sustainability strategies across all elements of the Plan, and to fund much of this important project. In close partnership with the Pioneer Valley Planning Commission (PVPC), Palmer and VHB also completed a Public Health Addendum for the Master Plan funded by a Mass in Motion Healthy Hampden grant. Through the Mass in Motion program, the Town had the opportunity to augment its Master Plan with the assessment and actions necessary for pursuing designation as an Age and Dementia Friendly Community.
Highly anticipated by residents, an update to the Town of Palmer's previous Master Plan—which was completed in 1975 prior to the adoption of zoning—was long overdue. The COVID-19 pandemic presented a major obstacle to the 16-month planning process, which had just gotten underway.
"One would think that this would have halted an exercise which required active public outreach and community engagement," Linda said. "However, with the ingenuity and experience of VHB, the opposite occurred, and the level of public feedback was an overwhelming success."
Adopted unanimously by the Palmer Planning Board in August 2021, the Palmer Master Plan equips town officials to better manage change and inform residents and businesses about this central western Massachusetts municipality's trends and policies. This critical, data-comprehensive resource is guiding municipal actions, including the regulation of future residential, commercial, and industrial growth in Palmer. Community members have rallied around the Plan, appreciating the direction it provides for moving Palmer towards a healthy, sustainable, and vibrant future.
Connect with Donny to learn more about transitioning communities' built and social environments to be more resilient. Visit our Smart Communities webpage to discover how VHB partners with community leaders, citizens, and stakeholders to build future-focused smart communities.