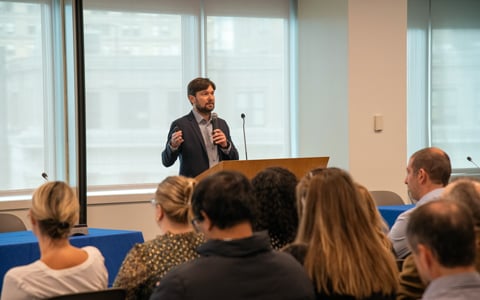 Ryan Prime, VHB's Sustainability Practice Leader, took the stage at the recent MTA Clean Construction Convening. The event brought together influential industry leaders from the construction industry to explore strategies for tracking and reducing carbon emissions in construction practices, paving the way for a more sustainable future.
With the construction industry responsible for nearly 30 percent of global carbon emissions, and a minimum of eight percent traced back to the manufacturing of construction materials, Ryan's presentation underscored the urgency of confronting the critical embodied carbon challenge.
Embodied carbon, which represents 25 to 50 percent of a building's total emissions over its lifespan, encompasses the carbon emissions linked to construction materials. Ryan showcased the importance of reducing the carbon footprint in projects, emphasizing that the crucial first step in effective emissions management is accurate estimation. He introduced innovative concepts like Environmental Product Declarations (EPDs) as a vital tool for transparently communicating the environmental impact of products and materials over their entire lifecycle.
As the world braces for an unprecedented wave of building and infrastructure growth, the insights shared at the MTA Clean Construction Convening serve as a rallying call to action for industry leaders.
"Events like the MTA Clean Construction Convening provide invaluable platforms for knowledge sharing and collaboration within the construction industry," said Ryan. "By openly discussing embodied carbon emissions and sustainable strategies, we can collectively steer the construction section toward greater environmental responsibility."
Take the first step towards a greener future by connecting with Ryan to learn more about VHB's sustainable solutions and how you can make a positive impact.