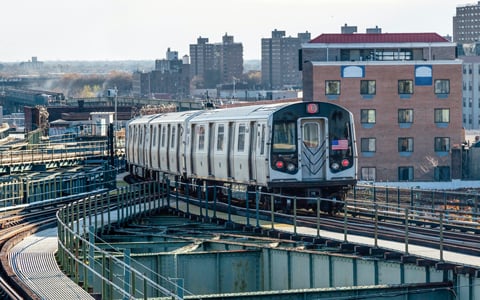 With a historic $54.8 billion Capital Program, the Metropolitan Transportation Authority (MTA) is embarking on a plan to execute an aggressive State of Good Repair initiative, investing in the New York's subways, buses, railroads, bridges, and tunnels over a five-year period. MTA selected the VHB-Arcadis Joint Venture (JV) for a multi-million-dollar Program Management and Design (PM&D) Services contract to support their Capital Program Infrastructure work. The PM&D contract consists of 51 projects in four programmatic disciplines to be completed within a compact 16-month schedule.
The VHB-Arcadis JV will perform overall program management, preliminary design services for design-build procurements, and final design services for design-bid-build procurements for the Infrastructure Business Unit of MTA Construction and Development (C&D) at their bus facilities, line structures, rail facilities, and wayside power locations. With goals of creating a faster, more accessible, and more reliable public transportation system, this bold and aggressive investment will help drive economic growth of the New York region for years to come by bringing existing assets to a state of good repair.
The VHB-Arcadis JV will partner seamlessly with the MTA on this unprecedented program, serving as an extension of MTA staff, working together and with joint ownership to provide for a successful program. The JV brings a depth of resources and experience in successfully executing large-scale transportation programs, along with a proven ability to identify challenges, develop solutions, and commit to driving complex programs through successful completion.
Joe Pizzurro, PE, VHB-Arcadis JV Program Director said, "My 27-year career leading complex transportation programs in the New York City region brought me to this exact point—working with the MTA to guide this ambitious program to success. Our integrated team of more than 150 innovative transportation professionals looks forward to partnering with the MTA to transform transit in the region."
The New York region and the entire transit system is poised for major upgrade in the upcoming years. "Key to a successful path forward and delivery of a program of this magnitude is the ability to deliver multiple projects concurrently, provide seamless coordination with multiple MTA departments, and leverage our JV resources to proactively drive all projects to completion," said Steve McElligott, PE, JV Project Executive and VHB's Transportation Market Leader. "We look forward to this partnership with MTA as we change the shape of mobility and reimagine the future of transit."
Interested in working at VHB on this project or others, join our growing team!