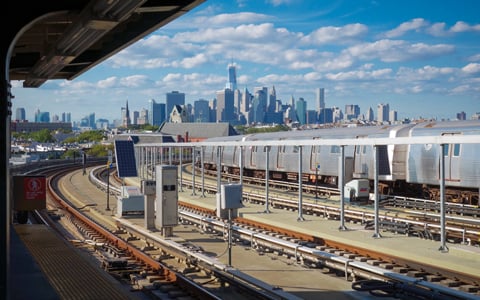 The Metropolitan Transportation Authority (MTA) Program Management and Design contract, a key component of the MTA's State of Good Repair Infrastructure initiative, has achieved exceptional milestones under its ongoing partnership with the VHB and Arcadis Joint Venture (JV). This project is dedicated to upgrading the New York City transportation infrastructure system while securing its long-term sustainability and resilience. Despite tight timelines, VHB has demonstrated its client-focused commitment by helping successfully deliver 19 projects in eight months, marking a significant achievement for transportation infrastructure improvements. These 19 projects were strategically bundled into seven construction packages, each representing a critical facet of the MTA's infrastructure, including bus facilities, line structures, rail facilities, and wayside power.
The VHB-Arcadis JV has seamlessly integrated with the MTA team on this project, collaboratively implementing an innovative approach to accelerate the design process. Together, they departed from traditional methods to harness cutting-edge technology and unique survey techniques. Leveraging existing data, Nearmap data, and Google Earth imagery, the team worked in tandem to streamline surveying and design concurrently, ultimately accelerating progress significantly. VHB also introduced a groundbreaking addition to their toolkit—the NavVis VLX3 laser scanning technology. This revolutionary tool takes laser scanning to the next level, enabling faster and more accurate data capture. Additionally, they optimized the design schedule to better align with the MTA's needs by eliminating one of the interim milestone submissions, moving from a preliminary design level to a pre-final level to expedite timeframe and comment review in the condensed schedule.
"This achievement isn't just about meeting expectations; it's about surpassing them," said Joe Pizzurro, NYC Managing Director at VHB. "What our partnership has accomplished here underscores the potential of innovation, dedication, and teamwork.
"By diligently focusing on our client's needs, we didn't just deliver on our promises; we exceeded them, proving that when you combine passion with cutting-edge technology, there's no limit to what we can produce."
Despite the project's daunting size and tight schedule, the VHB-Arcadis JV collaborated closely with the MTA as an extension of its staff to tackle the challenges head-on. Through a strong partnership, the team instilled confidence in its ability to meet project requirements while adeptly responding to evolving project scopes and responsibilities. By proactively devising custom solutions, the JV team helped the MTA navigate unforeseen obstacles while delivering on additional project needs as they arose.
Over the next years, the VHB-Arcadis JV will provide construction phase services for these projects, helping the MTA confirm successful implementation while continuing to offer program management support services. Looking ahead to 2024, the team will submit additional project baseline reports and full milestone designs to meet an end-of-year deadline, with some projects already underway.
Once complete, this project will provide the city with a faster, more accessible, and more reliable transportation network while delivering economic and environmental benefits. As VHB continues its partnership with the MTA and Arcadis, the company remains committed to creating lasting value for commuters and the city alike. Together, they are not only revitalizing transportation but also shaping the future of New York City.
Learn more about VHB's work with transportation agencies and its transportation services today.