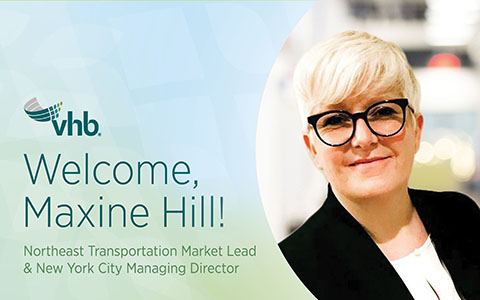 VHB is pleased to welcome Maxine Hill as Transportation Market Lead for the company's Northeast region and Managing Director of our New York City office.
Maxine has delivered some of the most complex, high-profile projects in New York City via design-bid-build and design-build delivery, including the $4 billion LGA Central Terminal Building Redevelopment program and the $1.6 billion Moynihan Train Hall development.
"Maxine has been an advocate for advancing alternative delivery methods and is at the forefront addressing technology challenges in the industry and in creating project management best practices," said Terri Elkowitz, Northeast Regional Manager. "Her experience in New York City and established client relationships will enhance our continued growth and client support in the New York metropolitan area, particularly as the pandemic continues to unfold and we navigate our new normal—together."
Maxine is regarded as one of the most well-respected leaders, champions for diversity, and mentors in the industry. She has spoken and published articles on topics including bias in engineering, design-build strategies, and project management best practices. She is Chair of ACEC's MTA Committee and serves on the ACE Mentoring Board. In addition, she was named the ACEC New Principal of the Year in 2019.
Prior to VHB, Maxine was the New York Area Manager at WSP USA. She received her Master's in Civil Engineering Design and Management from the University of Wales, Cardiff.