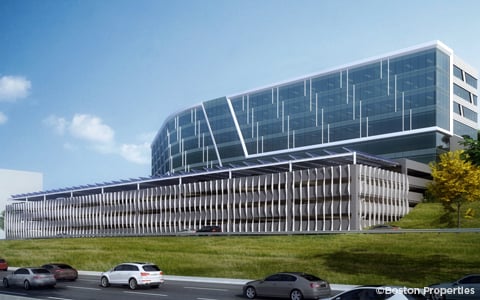 Construction is underway for a new life science facility in Waltham, Massachusetts, which will help meet the surge in demand for new space in the Boston metro area. Situated in the CityPoint District, 180 CityPoint was designed to attract emerging and leading companies in the life science and biotechnology sector. Boston Properties (BXP) Life Sciences continues to invest in Waltham and Lexington, and this modern facility will deliver 330,000 rentable square feet of lab and office space, as well as a wellness center, basketball court, grab-and-go café, and shared meeting space to the market.
VHB's collaboration on this project began eight years ago with the permitting and development of 130 and 180 CityPoint. The engineering team developed a permitting strategy for the two parcels, which made certain that Thermo Fisher Scientific could take ownership of 130 CityPoint and meet opening day schedules for their new corporate headquarters. After Thermo Fisher relocated their headquarters, 180 CityPoint was open for development.
VHB's deep relationships in the City of Waltham and history on the site was instrumental in meeting an accelerated project schedule. The company's integrated services team secured a special permit for a life science use and worked alongside team partners to develop the infrastructure to support operations on this complex parcel with challenging topography—nearly 80 feet of grade change across the property. To meet stringent city standards, VHB designed a new stormwater management system, positioning collection tanks underneath the new garage, loading dock and main entrance. VHB also worked alongside the architect on the site design and building layout, seamlessly integrating the building into the site. The team designed aesthetically pleasing entries and walkways and addressed accessibility issues as well as transit and parking strategies.
"Waltham and other Greater Boston cities have become a hotbed for life science and biotechnology companies. As the race for space heats up, 180 CityPoint is strategically located on Route 128 and is strongly positioned to attract emerging firms as well as top talent," said Rob Nagi, Principal. "Our longstanding relationships with the City of Waltham was key to expediting permits for this new facility, which made certain the team could keep construction on track to meet aggressive opening day schedules."
For more than 25 years, VHB has partnered with local developers and the City of Waltham on major developments which have resulted in economic benefits to the community. In-depth knowledge of the city's permitting and planning process, and relationships with local agencies, has been instrumental in moving projects forward. VHB developed the infrastructure to support Wolverine's and Thermo Fisher Scientific's new headquarters in Waltham and partnered with MassDOT and BXP on the design of new operational and safety improvement modifications to a major interchange off of Route 128 that feeds this site. VHB has also been instrumental in assisting with the repositioning of 1265 Main Street, former home of Polaroid, which will deliver more than 1.5 million square feet of commercial space for the city.
VHB collaborated on 180 CityPoint with Consigli Construction Inc., Stantec, McNamara Salvia, Bala Consulting Engineers, Sanborn Head, Lemon Brooke, Nutter McClennen & Fish LLP, and the Law Offices of Philip McCourt. The groundbreaking took place in July 2021, with an expected completion date in 2023. For more information about this project or VHB's life science experience, contact Rob Nagi, Principal or Nicholas Skoly, Project Manager.