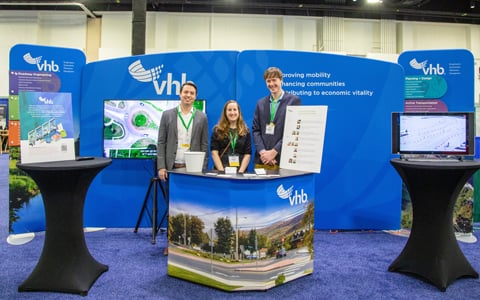 Last week, the Massachusetts Department of Transportation (MassDOT) held its annual Transportation Innovation Conference in Worcester, MA. The conference provides a forum for innovative transportation systems, management ideas, and initiatives and is open to all transportation practitioners including federal, state, local agencies, Metropolitan Planning Organizations, transit agencies, academia, and private industry. It also allows the opportunity to share knowledge, sponsor peer-to-peer learning, and collaborate on issues of mutual interest.
Twelve VHB team members led informative panel sessions alongside additional speakers, including Secretary and CEO of MassDOT Gina Fiandaca, and MassDOT Highway Administrator, Jonathan Gulliver. Conference participants had the opportunity to discuss the advantages and challenges associated with the innovative methods and technologies used to improve mobility, access, and connectivity along Massachusetts' transportation system.
A specific focus of this year's conference was on MassDOT's investment in infrastructure, and VHB's innovative "peanut roundabout" design for Kelley Square in Worcester was the highlight. Long notorious for being one of the most dangerous, crash-prone intersections in the state, VHB reimagined Kelley Square to increase safety and access. The project required an array of integrated services, including 3D design, transportation engineering, permitting, landscape architecture, urban design, placemaking, public outreach, and survey. Sophisticated 3D modeling persuaded skeptical residents and business owners to support the project.
VHB's display included more information about the Kelley Square project and was well received. In lieu of traditional branded merchandise, VHB donated to Worcester Polytech Institute (WPI) in support of the school's STEM Education Center. The program is committed to empowering educators with the guidance to lead relevant, integrated, and inclusive STEM learning experiences with their students and communities. This commitment aligns with VHB's dedication to advancing and transforming STEM education, and equity in education and our communities.
To learn more about VHB's innovative roadway designs and state-of-the-art 3D visualizations, please contact Regional Transportation Leader Don Cooke or visit our Transportation page.