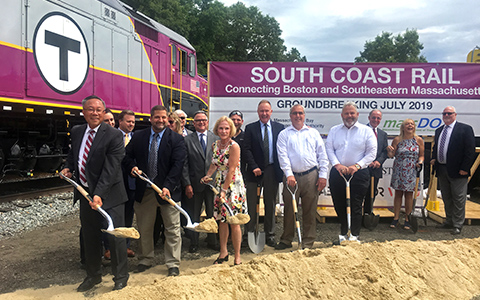 This month, Governor Charlie Baker, Lieutenant Governor Karyn Polito, MassDOT Secretary and CEO Stephanie Pollack, and MBTA General Manager Steve Poftak joined local groups to break ground for Phase I of the South Coast Rail project in East Freetown, MA. The long-awaited rail service will restore the commuter rail connection between Boston and the southeastern gateway cities of Taunton, New Bedford, and Fall River. This connection will improve connectivity to jobs and spur economic development for these southeastern communities.
VHB has been leading the planning, design, and permitting efforts on this project for many years with our wide range of services, including:
- Program management
- Commuter rail planning and design
- Site/civil engineering
- Environmental permitting and review
- Real estate
- Bridges, culverts, and retaining wall design
- Land planning
- Operations and signal design
- Hazardous material
-Station and layover design
Having reached a major milestone of receiving full funding for phase one of the program, the MBTA expects passenger rail service to the South Coast region to start in late 2023.
"This is a very exciting time for the South Coast Rail program," says Rick Carey, VHB's New England Director of Transit & Rail. "It was great to experience the excitement at the groundbreaking and to know that after 30 years and the commitment of the VHB team, the start of the commuter rail service to the South Coast region is a reality."
For more information, read the press release posted on mass.gov or visit the South Coast Rail project site.