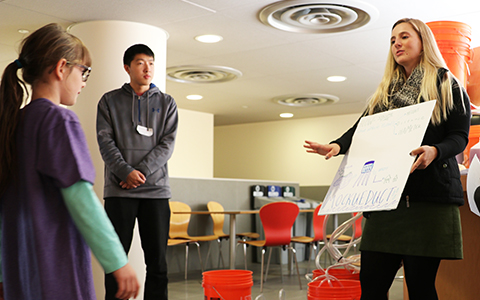 ​On Saturday, October 26, over 60 girls ages 8-18 came together at the Harvard University Science Center for the Transportation YOU summit. Hosted by WTS Boston, MassDOT, and the MBTA, the summit is an annual event filled with hands-on workshops introducing the young participants to a wide variety of transportation and STEM-based careers.
Stefanie Beaver, Senior Highway Engineer and co-chair of the WTS Boston Outreach Committee, led this successful event, with the assistance of Selma Mandzo, who acted as a liaison to the WTS Board of Directors for the committee, providing guidance and assistance throughout the entire planning process, as well as hands-on help the day of the event. "It's inspiring to be a part of Transportation YOU to give young girls a glimpse of how exciting and fulfilling a career in transportation can be," she says. "I wish there had been more events like this when I was younger."
Water Resources Specialist Maria Briones led a workshop called 'Mockueduct,' with the assistance of Water Resources Specialist Kelly Siry, Air & Noise Quality Analyst Rebecca Shedd, and Environmental Scientist Elizabeth Greaves. The VHB team demonstrated how gravity-driven flow is impacted in a water distribution system using a homemade mock aqueduct. Participants raced to see which "house" would receive water more quickly under various scenarios of changing source elevation, pipe diameter, and pipe length. They also learned about the importance of utilities in transportation planning.
Susan Nichols, New England Environmental Service Leader and WTS member, brought her daughter to the summit. "Watching my daughter's face light up during the workshops really brought home the importance of encouraging young girls to pursue STEM careers. It is also a great opportunity to share why we love what we do."
VHBers involved in planning, facilitating, and workshop efforts included: Stefanie Beaver, Selma Mandzo, Maria Briones, Elizabeth Greaves, Kelly Siry, Susan Nichols, Rebecca Shedd, and Adriana Santiago. Graphic Designers Courtney Krause and Ginette Colon designed the event flyer. Sarah Toole coordinated the filming and production of video remarks by Secretary Pollack. Photo credit: Amy Li Photography.