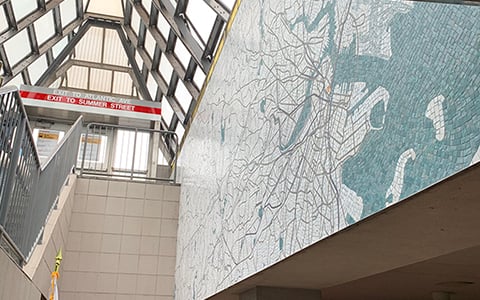 ​VHB's Chief People Officer Keri Kocur joined WTS-Boston President Sarah Dennechuk and Secretary of Transportation Stephanie Pollack to celebrate the debut of a new, permanent art installation at South Station commissioned by the Women's Transportation Seminar (WTS)-Boston Charitable Fund. WTS is an international organization dedicated to building the future of transportation through the global advancement of women.​
"WTS is an empowering organization that has meant a great deal to VHB, to many of our employees, and to me personally," said Mike Carragher, VHB president and CEO. "I especially value the diversity of thought and perspectives that WTS supports within the transportation industry. This exhibit is a reflection of the important role that WTS has played in shaping transportation in Boston."
VHB was one of the first major corporate sponsors of the installation. The project—co-chaired by Lisa Brothers, chairman and CEO of Nitsch Engineering, and Hyun-A Park, president of Spy Pond Partners—was awarded a $100,000 grant from the City of Boston's Edward Ingersoll Browne Trust Fund. "VHB's early commitment to this visionary WTS initiative was instrumental in helping us secure the grant from the City and other corporate sponsors," said Brothers.
The innovative mosaic, Network, was designed by world renowned artist Ellen Harvey. Her piece, inspired by the metaphor of a mermaid escaping her destiny at sea, embraces WTS's mission by highlighting women's role in transportation as creators of infrastructure and services, responsible for transporting people and goods throughout the United States and abroad.
VHB has been a sponsor of WTS International since VHB's founding 40 years ago, and the company has continued that commitment through corporate sponsorship of many WTS chapters along the East Coast. More information on the WTS public art installation can be found on the Women in Movement website at wtsbostonpublicart.com.