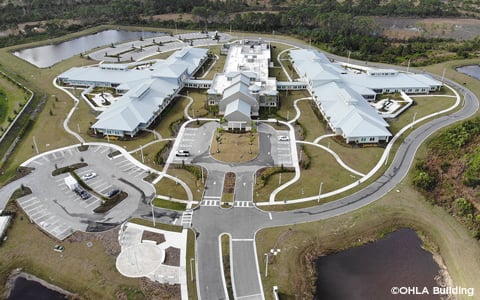 The State of Florida has the third largest population of Veterans in the U.S.— many of whom need advanced care in their later years. VHB was part of a team that emphasized the specialized needs of Veterans at the new Ardie R. Copas State Veterans' Nursing Home in Port St. Lucie—Florida's seventh state veterans nursing home. An integrated team of VHB civil engineers and landscape designers worked collaboratively to enrich the nursing home's built and natural environments with places of comfort, respite, and honor for residents and their families.
The project is one of the first in the Country to employ a U.S. Department of Veterans Affairs delivery method that accelerates and streamlines design and development for critical projects that advance Veteran care via designated funding to state agencies.
Ardie R. Copas State Veterans' Nursing Home is operated by the Florida Department of Veterans Affairs and named in honor of an Army Veteran and Medal of Honor recipient from Fort Pierce, Florida, who was mortally wounded after taking action to save wounded comrades during the Vietnam War. The facility is located on 28 acres and has 66 semi-private rooms for Veterans, including sixty beds for residents with dementia. Three main buildings comprise the campus: a central welcoming space, known as "The Heroes Center," with residential services such as a barbershop and dentist, bordered by two large neighborhood buildings with residential rooms and amenities.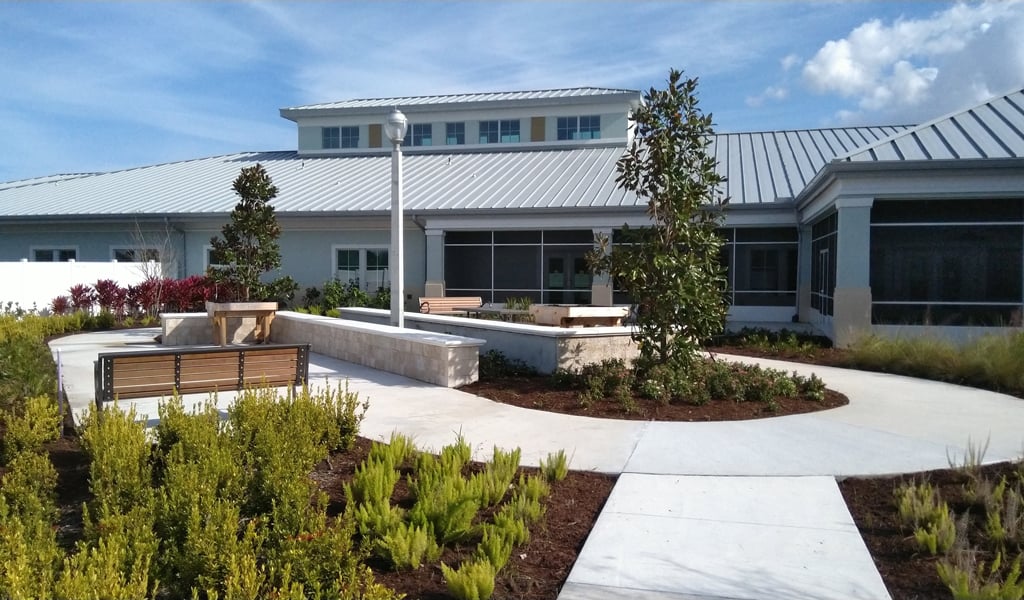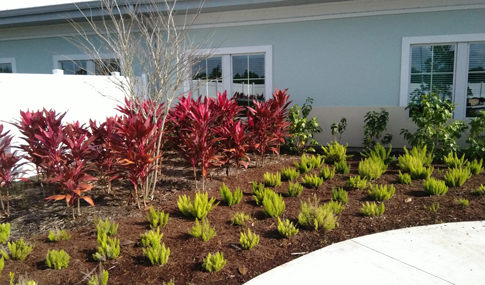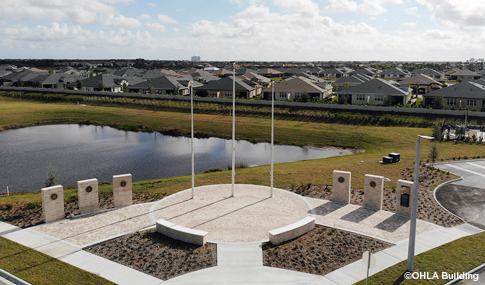 "VHB was involved from the project's earliest stages, taking a future-focused approach to campus planning by keeping sustainability and subsequent development top of mind," said Jaime Igua, PE, Project Manager. "We worked closely with the City and design team on civil and utility design for the construction of a 24-inch sanitary sewer force main and a 16-inch water main which will serve future civil infrastructure as well as existing city utilities."
The project also included additional utility lines to support the proposed chilled water plant, backup power generators, and an oxygen farm.
VHB provided landscape design with a holistic focus on respite, safety, and sensory elements that create stress-reducing environments. Residents, families, and visitors in each neighborhood can visit secure healing gardens with comfortable benches, a looped pathway, raised beds for gardening activities, and tropical plantings.
Designers highlighted a long entry approach to the facility by landscaping with stately Royal Palms and colorful perimeter plantings. Water features flank a welcoming railed causeway element. A Flag Memorial Court was designed and located near the front of the facility as a place of honor.
"Memorials play a significant role for Veterans. They provide a place to reflect on the past as well as the future," said Ryan Tury, RLA, Landscape Architect. "VHB designed the Memorial to incorporate tribute monuments comprised of enduring material that celebrate the contributions of members all branches of the U.S. Armed Forces: Navy, Marines, Army, Air Force, Coast Guard, and now Space Force."
VHB's Federal practice is recognized for work with major federal facility agencies across the East Coast. We support military readiness and guide our federal clients through sustainable, resilient, and equitable project initiatives through our deep understanding of regulatory requirements, time frames, and budgeting.
For more information about how VHB is building resilient, sustainable facilities, contact Jaime Igua.