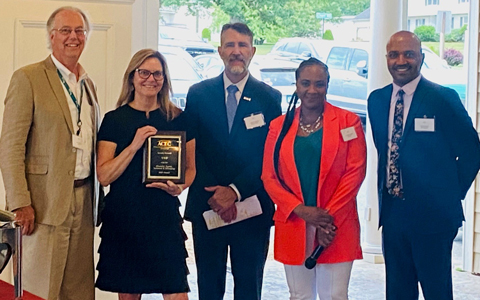 VHB is the proud recipient of this year's Diversity, Equity, Inclusion & Belonging award from The American Council of Engineering Companies of Connecticut (ACEC-CT). ACEC-CT held its Annual Meeting and Awards Dinner on June 20 and presented the 2023 award to Robin Bousa, Managing Director of VHB's Connecticut office, and Gordon Daring, Senior Advisor, on behalf of the company.
The award recognizes VHB's commitment to creating a workplace that values and respects diversity, promotes equity and inclusion, and fosters a sense of belonging for all employees. Companies were evaluated based on their quantifiable depth of benefits, impact and change in behaviors, quantifiable impact/changes to business performance, and level of engagement within the organization.
VHB highlighted our formal program development, training initiatives, and business diversity as our focus areas. This included the creation of VHB IDEAL (Inclusion, Equity, Diversity Alliance), VHB's DEI Steering Committee (DEISC), and the introduction of the Community Conversations series as a safe space to promote dialogue and greater understanding around pressing social issues. VHB also underlined its recruiting guiding principles to attract and hire employees from a full spectrum of diversity. On the business side, VHB strives to meet or exceed the Disadvantaged Business Enterprise (DBE) goals established by our clients on all contracts and has strong relationships with many certified DBEs. Our commitment to diversity, equity, inclusion, and belonging is evident in our efforts to make certain that everyone is afforded equitable advancement opportunities, compensation, and recognition to grow and thrive—personally and professionally.
Since our founding over 40 years ago, VHB has always focused on people—our clients, our employees, our partners, and those in our communities. Collectively, our diverse perspectives enable us to deliver more innovative, sustainable, and equitable solutions to our clients and communities.
See VHB's Diversity, Equity, & Inclusion page to learn more about our commitment statement and initiatives.