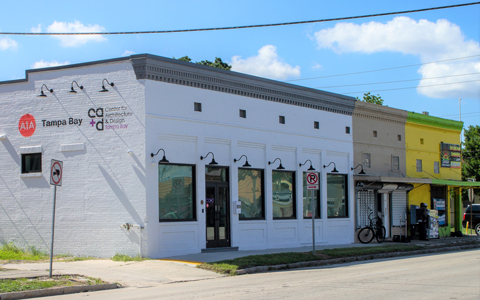 The Center for Architecture and Design Tampa Bay recently celebrated its opening in a historic building located at 1208 North Howard Avenue in the West Tampa National Historic District of Florida. The new Center is the home of American Institute of Architects (AIA) Tampa Bay and will be open to the public as an event space. VHB provided pro-bono civil engineering services for the new parking lot, front entry, and streetscape and construction improvements that enhanced the adaptive reuse of the historic property.
The building is a former 3,000-square-foot warehouse built in 1904. The Center project was driven by sustainable design practices that encouraged adaptive reuse of materials and flexible use of space. VHB's experience and relationship with the City of Tampa helped the client move quickly toward a permit-ready site and grading plan that included demolition of an old asphalt parking lot replaced with new pavers. The entry sidewalk was removed and regraded to be Americans with Disabilities Act (ADA) compliant, which visually improved the building's aesthetics and street view, as well.
VHB worked closely with AIA Tampa Bay, architectural consultants, and the contractor through construction. At the ribbon-cutting ceremony, project renovation team members were recognized with commemorative QR codes located throughout the building that provided additional background information for visitors.
"The Center for Architecture and Design plays an integral part of further revitalizing this historic community in Tampa," said John Eveland, Director of Land Development of VHB Tampa. "We were proud to donate services and collaborate with our AEC industry partners to preserve a historic asset that will inspire a new generation of architecture and design enthusiasts and enhance the community for years to come."
Learn more about how VHB helps other institutions and cultural facilities flourish and positively impact the communities we live in.