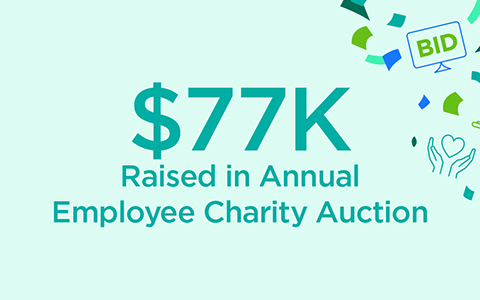 Together, VHB and our employees raised more than $77,500 for charitable organizations during VBay, the company's largest fund-raising event. This spirited and much loved annual tradition is hosted by VHB Cares, the company's employee-led philanthropic group, and all proceeds go to charities chosen by VHBers at the 30+ offices across our footprint. This year's total brings charitable donations since the firm's founding to over $4.3 million.
VHB employees donated an impressive variety of auction items, ranging from mouth-watering baked goods, homemade hot sauce, and home brew; to beautiful paintings, forged ironworks, and stained glass; to weekends away and sports and theater tickets.
As President and CEO Mike Carragher reflected, "It's amazing the impact that we made, while having fun and building on our company culture of giving back. I am always proud of VHB, but never more than when we come together to support those in need. As we continue to dedicate ourselves to delivering sustainable, equitable, and resilient solutions for our clients and benefits for our communities, it is inspiring to know that we remain committed to the many people and organizations that depend on contributions from companies like VHB."
"I'm always amazed by my many talented, creative colleagues, who this year donated more than 300 diverse auction items, ensuring that there truly was something for everyone at this year's auction," said VBay co-organizer and Project Manager Kathleen Keen.
Rob Nagi, VHB Principal and Director of VHB Cares, was delighted with this year's outcome. "VHBers joined together once again to demonstrate our commitment to our communities," he said. "We know from the close and rewarding relationships we have with many of our supported charities just how much our donations mean to their organizations."
VBay, the company's largest charitable event, is complemented by other fund-raising and volunteer events throughout the year, including the VHB Jimmy Fund Golf Tournament, which over the past 28 years has raised more than $1 million to support cancer research at the Dana-Farber Cancer Institute.