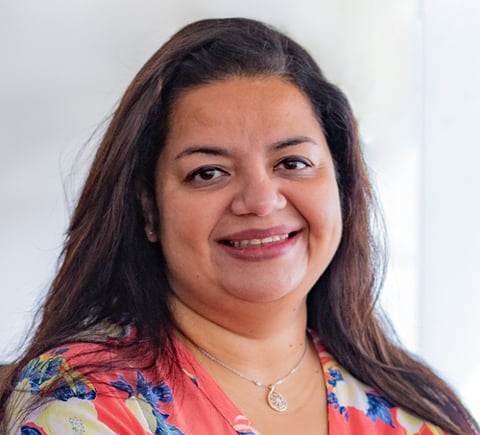 VHB welcomes Arpita Guha, PE, PTOE, RSP1, as Transportation Systems Director in Tampa. Arpita will lead Gulf Coast transportation teams and work side-by-side with clients to elevate critical multimodal corridor projects at a time of extensive population and development growth in Florida. Her leadership in traffic engineering for local municipalities and transportation agencies will help clients enhance transportation networks and balance infrastructure needs with environmental stewardship.
Arpita is highly regarded in the transportation industry and recognized for her work with high-profile clients like Florida Department of Transportation (FDOT) Districts 1 and 7, the City of Tampa, and Hillsborough and Pinellas Counties on significant transportation improvement programs, including Tampa Bay Next—the region's most comprensive transportation infrastructure modernization program. Her collaborative approach to teamwork and consensus-building with clients leads to innovative concepts that safely move goods and people on Florida's busy expressways, highways, and arterials.
Arpita's 19 years of transportation planning and engineering experience includes leading traffic safety studies, community planning, and transportation impact studies for roadway design and economic development projects. Clients trust Arpita to lead stakeholder engagement and evaluate alternatives for Project Development & Environment (PD&E) studies for corridors in rural and urban communities, including as Engineer of Record for the East Lake Road Corridor Analysis Study in Pinellas County, which included operational evaluation of innovative intersection concepts for 12 intersections over nine miles of roadway. As Lead Traffic Engineer and Task Manager on Tampa Bay Next Section 6, she was instrumental in conducting alternative analysis for one of Tampa's most challenging interchanges at I-4 and I-275.
"VHB Tampa is growing and the addition of Arpita to our team strengthens our connection to local agencies and muncipalities," said Demond Hazley, PE, Gulf Coast Managing Director. "Her broad experience in traffic engineering and planning, proven leadership, and strong connections will have a significant impact on equity, safety, and resilience in communities across Florida."
Arpita earned a Master of Science degree in Civil Engineering from Wayne State University in Michigan, and a Bachelor of Science degree in Civil Engineering from Jadavpur University in Kolkata, India. She is a registered Professional Engineer (PE) in Florida, Professional Traffic Operations Engineer (PTOE), and Road Safety Professional (RSP1). She is an active member of Tampa Bay Transportation Applications Group (TB-TAG) in FDOT District 7 and the Institute of Transportation Engineers (ITE).