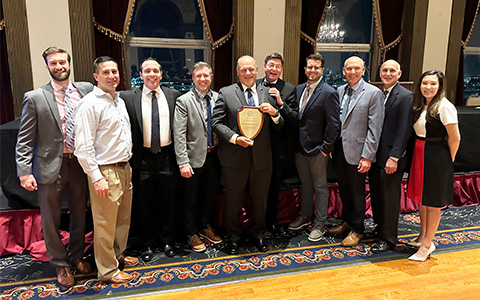 Providence Engineering Society (PES) presented Bill DeSantis, PE, a Principal in VHB's Providence office, the 2023 Freeman award at the recent Annual Awards Banquet. This award is PES' highest honor and is given to an individual who has demonstrated engineering excellence and has advanced the engineering profession throughout his/her/their career.
With more than 47 years of experience, Bill is VHB's Corporate Director of Bicycle Transportation Planning & Design and has overall technical responsibility for non-motorized and safety improvement projects ranging from local on-road bicycle networks to regional bicycle and pedestrian trails. He is also the corporate leader of VHB's Bicycle/Pedestrian and Transportation Enhancement practice. As technical advisor on numerous bicycle/pedestrian and active transportation projects in the eastern U.S., he's involved in the planning, design, and construction of bikeways and pedestrian facilities in 15 states.
During his 36 years with VHB, Bill has served as a role model and has managed many high-profile signature projects in Rhode Island and Massachusetts, including bikeways, rail trail conversions, and the restoration of numerous historic Rhode Island lighthouses.
Prior to joining VHB, Bill served as a civil engineering officer in the US Coast Guard First District Civil Engineering Branch in Boston, Massachusetts, and was awarded the Coast Guard Achievement Medal for outstanding performance on numerous projects in support of the Coast Guard mission.
Since 2010, Bill has served on the National Committee of Uniform Traffic Control Devices (NCUTCD) and Chair of the NCUTCD Bicycle Technical Committee since 2017. During this time, Bill was instrumental in developing new bicycle and pedestrian related standards, guidance, and practices for the next edition of the Manual on Uniform Traffic Control Devices (MUTCD). As Chair of the Bicycle Committee, Bill led the NCUTCD response to the FHWA Notice of Proposed Amendment for Part 9 of the draft MUTCD.
"Our employees, our clients, and our community have all benefited from Bill's dedication to his work and to the field of engineering," said Justin Dufresne, Managing Director, VHB, Providence. "Bill helped launch the VHB Transportation Group in our Providence office and assisted VHB's Safety Team with development of numerous national level bicycle and pedestrian design guides. This well-deserved lifetime achievement award not only recognizes the positive impacts of Bill's engineering accomplishments, but also the enhancements that he's made in our communities."
Bill is a registered engineer in Rhode Island and Connecticut and is a graduate of Northeastern University with a bachelor's degree in civil engineering. Outside of work, he's active in numerous professional and bicycle advocacy organizations, as well as his local Community Emergency Response Team.