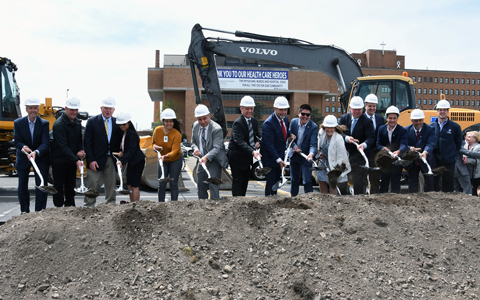 Catholic Health's Good Samaritan Hospital recently broke ground on its new, 300,000-square-foot Patient Care Pavilion. The Pavilion will soon be home to a state-of-the-art 75-bay Emergency Department, 16 tech-enabled operating rooms, and three floors of private patient rooms. In addition to more private space, patients and staff will experience larger and enhanced clinical areas and better access to the hospital's key services, ushering in a new future of care for Catholic Health.
The groundbreaking ceremony welcomed a mix of officials from the Town of Islip, local representatives from the Diocese of Rockville Centre, and Catholic Health's President & CEO Patrick O'Shaughnessy, DO, MBA, and Good Samaritan Hospital President Ruth E. Hennessy, as well as patients and community leaders.
"VHB is proud to partner with Catholic Health as they transform the level of patient care at Good Samaritan and set a new standard for healing and wellness on Long Island," said Andrew Nee, Senior Project Manager. "This modernization will help attract the doctors and leading healthcare professionals in the medical field while providing patients with better access to the services they need."
The Pavilion also adds new amenities to the hospital and the space vacated in the existing building offers flexibility for future modernization efforts such as more private rooms to address the ever-evolving needs of patients and staff.
VHB has partnered with Catholic Health to deliver several projects at Good Samaritan. For the Pavilion, VHB worked as an extension of the client's team by leading the New York State Environmental Quality Review Act (SEQRA) requirements and site plan approvals process, engaging the neighboring communities through public outreach.
"Catholic Health has been caring for communities on Long Island for more than a century," said Andrew. "It's exciting to see the stage set for the next 100 years of care at Good Samaritan and a focus on modernization across facilities on Long Island."
For more information, contact Andrew Nee.