The Children's National Research & Innovation Campus (CNRIC) has brought renewed life to the former 12-acre site of the Walter Reed Army Medical Center campus. This state-of-the-art healthcare facility, focused on advancing research and pediatric care, celebrated its grand opening in 2021. At a historic site where thousands of troops rehabilitated from severe injuries, and where significant research aiding in treatment of rare diseases occurred, the CNRIC is honoring the original mission of the site by advancing medicine and research. The research and innovation center, whose tenants include Children's National, Johnson & Johnson Innovation—JLABS, and Virginia Tech, is focused on accelerating scientific discoveries for children—the first hub of its kind in Washington, DC.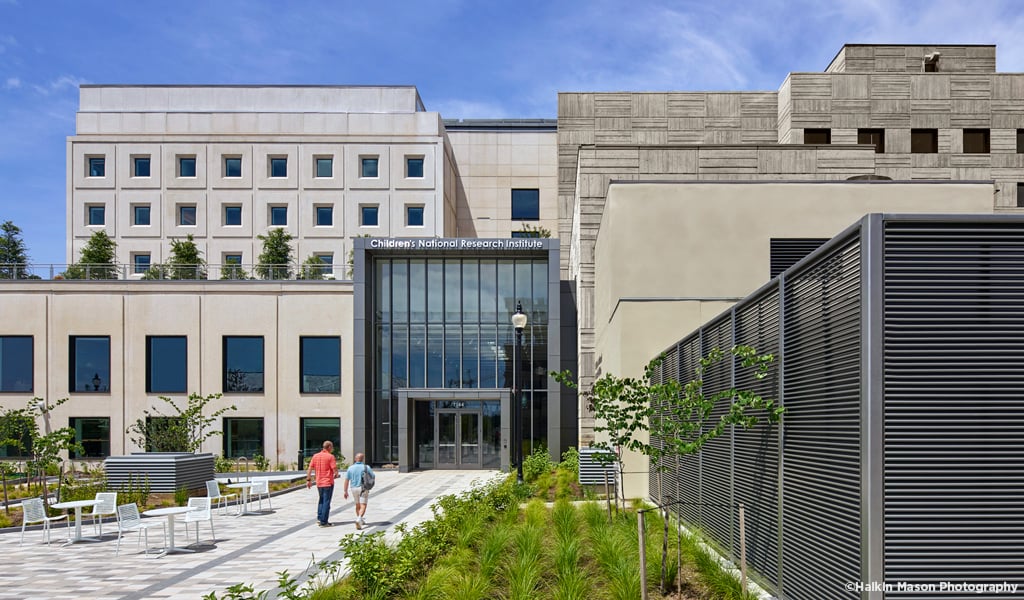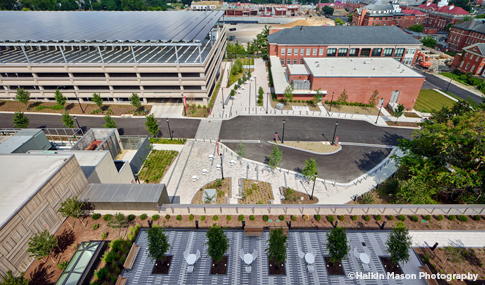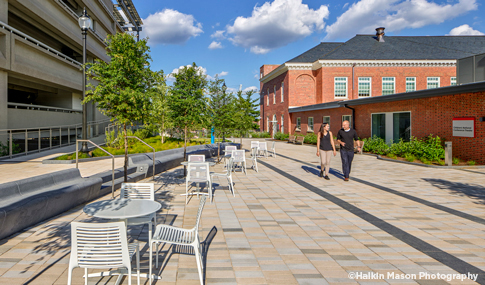 The development began in 2016 when the Children's National Health System signed an agreement with the U.S. Army to accept the transfer of 12-acres from the former Walter Reed Army Medical Center campus. Since then, the property has been repositioned and historic buildings have been rehabilitated to create a world-class research hub focused on biomedical research, as well as pediatric and adolescent primary care. As a teaming partner to Elkus Manfredi Architects, VHB designed the civil infrastructure necessary to support the long-term redevelopment of the site and guided the team through the complex DC regulatory and approvals process to minimize delays. VHB helped to address various site challenges and integrate new infrastructure within the aging systems, including new utilities and an innovative stormwater management system. We also helped secure a zoning text amendment that will enable Children's National to continue future development at the site more easily.
"The Children's National Research & Innovation Campus was a necessity for the future of pediatric healthcare innovation and research," said Irene Thompson, Executive Director of Real Estate and Capital Planning for Children's National Hospital. "Our region now has a one-of-a-kind facility fully devoted to nurturing innovation and providing primary and specialty care—ultimately advancing treatment and cures that will save children's lives."
Children's National Hospital was awarded $6.7 million in November 2021 from the National Institute of Health (NIH) for Phase II of the project. Additional research space will make certain that CNRIC can focus on intellectual and development disabilities research and continue to build momentum towards the goal of the BioHealth Capital Region—becoming a top-three research and biotech cluster in the U.S. by 2023. CNRIC will produce approximately 1,000 new jobs when the project is complete.
To learn more about our innovative experience partnering with healthcare institutions to reimagine and redevelop complex sites, visit the Healthcare page on our website.