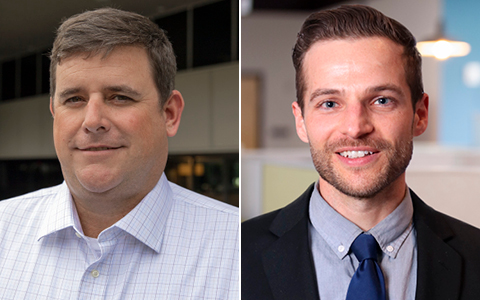 VHB is pleased to announce the addition of two new environmental team members who will elevate sustainability across markets for a broad range of clients. Chuck Smith, PWS (left), joins the Orlando office as Director of Environmental Services and Casey Venzon, LEED AP BD+C (right), joins the Watertown office as Senior Environmental Planner. Both will lead business development, client care, staff mentorship, and growth of the environmental practice at VHB.
Chuck's deep connections in the Central Florida Region and passion for integrating sustainability across projects strengthens the environmental team in the Southeast.
He has advanced certifications and knowledge from the Administration Society for Professional Wetland Scientists (PWS) and Federal Aviation Authority (FAA) in wetlands and airport wildlife studies. Chuck brings new proficiency to the team as VHB's first FAA Qualified Airport Wildlife Biologist. This advanced certification allows VHB to expand airport services related to specific wildlife studies and the National Environmental Policy Act (NEPA) documentation—providing a suite of in-house services.
Chuck's extensive airport experience with clients including the Greater Orlando Aviation Authority, Titusville-Cocoa Airport Authority, and Palm Beach County Department of Airports will grow VHB's prominence in leading aviation projects with complex environmental issues and water quality needs. He is skilled at both advancing multimodal NEPA documentation for federal clients such as the U.S. military and FAS, as well as navigating the Project Development and Environment (PD&E) process for clients including the Florida Department of Transportation (FDOT).
"Chuck is a Central Florida native whose vast consulting experience on complex environmental and water quality projects make's a strong addition to VHB's environmental practice," said Shannon Ruby Julien, Energy Market Lead, Florida. "He understands the critical role that water quality plays in making a more sustainable and resilient Southeast."
Casey is a U.S. Green Building Council Leadership in Energy & Environmental Design (LEED) Accredited Professional with a wealth of experience elevating environmental, social, and economically responsible principles in projects.
Over the past 13 years, Casey prepared more than 60 NEPA documents for airport clients, including environmental assessments, categorical exclusions, and re-evaluations. His efforts helped advance critical development projects at some of the busiest airports in the world. A strong advocate for sustainability, Casey developed a searchable database of more than 900 airport sustainability practices that guides the airport industry throughout planning, design, construction, operations, maintenance, and concessions. His years of research and reporting on sustainability initiatives for clients encompasses alternative fuels, renewable energy, energy conservation, sustainable construction practices, and social sustainability strategies. In his previous role, Casey served as an environmental and sustainability planner and worked with clients, including the Chicago Department of Aviation (CDA), the Metropolitan Washington Airports Authority, and the Transportation Research Board's Airport Cooperative Research Program.
Prior to joining VHB, Casey supported the CDA with environmental and sustainability planning for the $8.5 billion O'Hare Terminal Area Plan (TAP) for passenger terminal facility development, along with advancing completion of the $6.8 billion O'Hare Modernization Program, one of the largest construction projects in the country at one of the world's busiest airports. Casey secured more than $10 million in federal funding for six different airport projects through the Voluntary Airport Low Emission Program and Diesel Emissions Reduction Act Program and implemented the Sustainable Airport Manual™ (SAM®) to integrate environmentally, socially, and economically responsible principles into hundreds of O'Hare and Midway airport projects.
"VHB clients need bold, environmental resource leadership that understands sensitive ecosystems and cultural landscapes as they relate to negotiating complex regulatory processes, within communities across the Eastern U.S.," said Neville Reynolds, PWS, Environmental Services Leader. "Chuck and Casey will help VHB clients and communities build a more sustainable world and balance development and infrastructure needs with stewardship of the environment."
Connect with Chuck on LinkedIn or by email and connect with Casey on LinkedIn or by email.
Learn how sustainability is woven into everything we do.