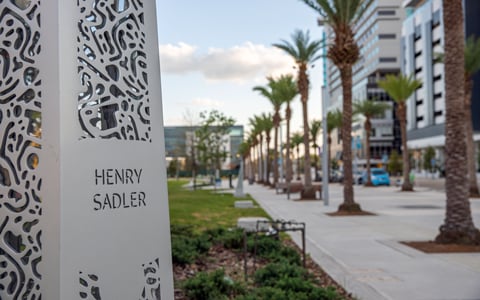 VHB celebrated the completion of Luminary Green Park in Downtown Orlando's Creative Village recently with the unveiling of its inaugural class of Luminaries: 12 important Parramore community leaders whose lives of service are recognized via prominent, internally-lit memorials throughout the park. VHB led master planning, landscape architecture, and urban design for the 2.5-acre park that considers the pedestrian experience, serves as a social gathering point for the historic Parramore community, provides healthy mobility options, and meets the needs of University of Central Florida and Valencia College Downtown campus students, residents, employees, and visitors.
The Luminaries are the centerpiece of Luminary Green Park, a vibrant urban park that opened in Fall 2022 and integrated concepts of healthy mobility, asset repositioning, and smart community planning to elevate opportunity and economic mobility.
VHB collaborated with AOA to design the Luminary Memorials, which are constructed out of Kynar coated aluminum panels and stand more than six feet tall. Intricate patterns are carved into the sides of the luminary which allow an internal light source to shine through, producing a soft colorful glow. As a secondary affect, the light emitted from the luminary casts the shapes of the pattern onto the surrounding surfaces.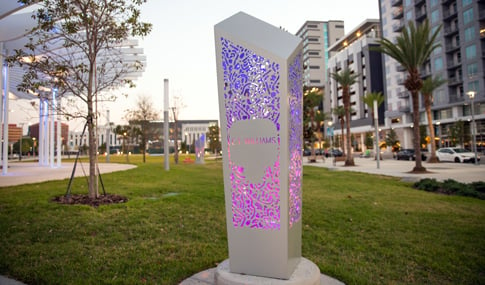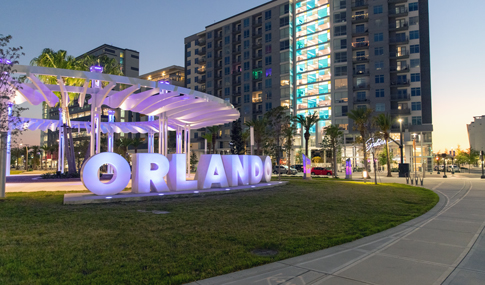 "The park revolves around the luminary theme—from the Park's name to the illuminated memorials, to the Parramore neighborhood luminaries that are honored via the memorials," said Ryan Tury, RLA, Landscape Architect. "This is a place the community can take family and visitors to celebrate their history and enjoy the Park for years to come."
Luminary Green Park is a preeminent example of urban placemaking—an important feature in asset repositioning for underutilized land or areas in need of redevelopment in cities. VHB's extensive knowledge of the area from working on the Parramore Comprehensive Neighborhood Plan, as well as partnering with Baker Barrios Architects and Ustler Development on the earliest stages of Creative Village, was instrumental in enhancing the new vibrant live/work/play urban space.
Connect with Ryan to learn more about how VHB planners and landscape designers are enhancing communities.