Spanning more than 36 acres across three adjacent parcels, the Dorchester Bay City project has been approved by Boston's architectural review board and is advancing to the next stage where it will be voted on by the Boston Planning and Development agency later this summer. This new development will be a catalyst for the community transformation—through flexible new commercial office/research space, residential housing, retail/restaurant space, and six-acres of well-appointed parks and plazas, the project will integrate into the extensive surrounding public spaces as part of a larger public realm and open space plan.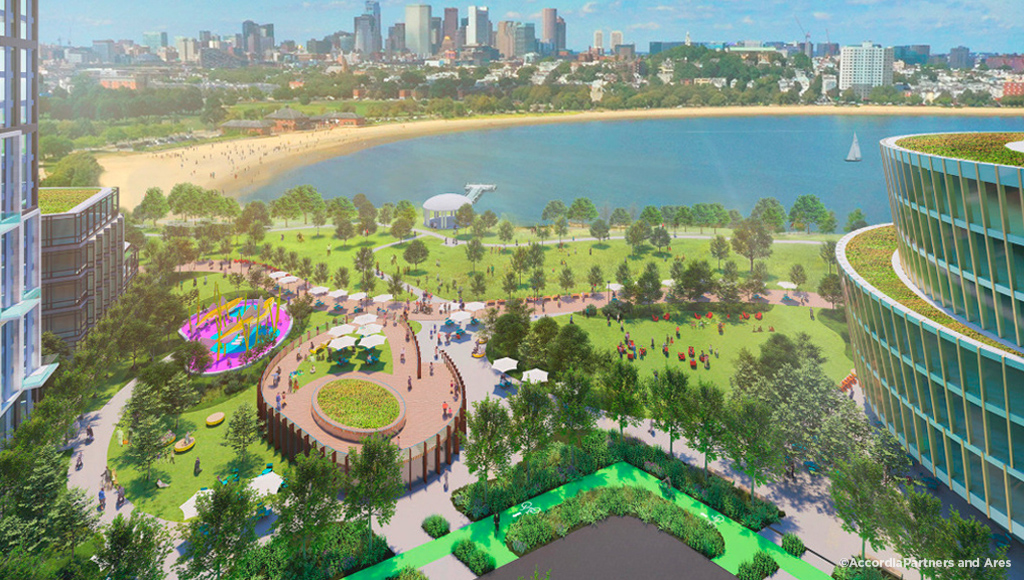 As part of this development, VHB is working with Accordia Partners, LLC, and providing civil engineering, resiliency services, and transportation planning. VHB was the lead engineer for the 2,000-linear-foot nature-based vegetated living levee to protect the City of Boston from sea-level rise and storm surge. The project site directly abuts Dorchester Bay and has been identified as a major flood pathway into the City of Boston during current and future coastal flood events. The project proposes a nature-based flood protection system consisting of a vegetated raised ridge along the seaward edge of the development as part of a district-scale barrier solution for the Columbia Point neighborhood. VHB also led outreach efforts and permitting with the Resiliency Working Group and coordination with state and city regulators.
VHB's analysis for this transit-oriented development is intended to explore transit service and roadway infrastructure upgrades to appropriate support multimodal users, with a focus on complete streets design and enhanced walking and bicycling connections to the MBTA's JFK/UMass station.
By remaking three largely car-centric sites into a pedestrian and bike-friendly area, the project will help reshape the Dorchester neighborhood of Boston with improved circulation, creating connections to downtown Boston, the surrounding Dorchester and South Boston neighborhoods, UMass Boston, Moakley Park, the Boston Harbor and the Harbor Walk.
VHB works with developers, institutions, state, local and federal agencies, and economic development agencies to create great places and valuable assets. Visit our Land Development page to learn more.