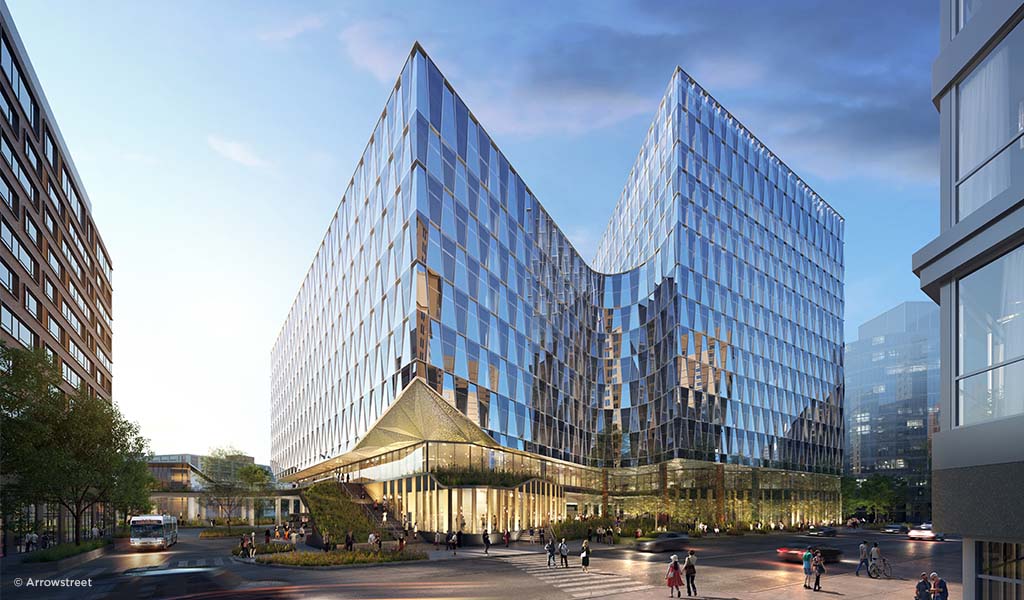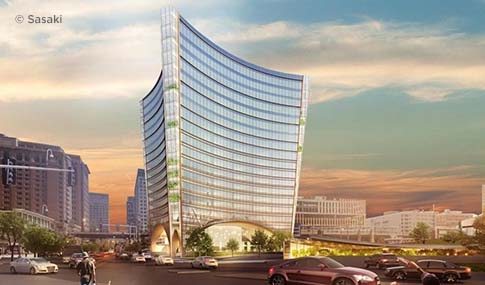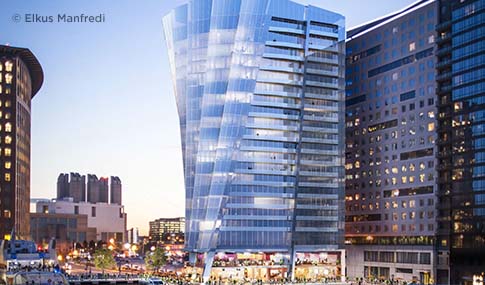 Images: (top) Seaport Circle, Massport Parcel H; (bottom left) 401 Congress, Massport Parcel A2; (bottom right) St. Regis Residences
Boston's Seaport District is a redeveloped stretch of the South Boston waterfront, lined with high-end restaurants, bars, stores, museums, and hotels. With its access to the waterfront, Boston Convention & Exhibition Center and multiple concert venues, it's no surprise that the area is highly sought after. But it wasn't always this way and most Bostonian's recall Seaport in the late 1990s as a barren wasteland of parking lots and concrete. However, when the area was dubbed the "Innovation District'' by Mayor Tom Menino in 2010, it created a development boom that's continuing over a decade later.
VHB's experience in the area spans decades, offering our clients unparalleled knowledge of the local zoning and entitlements processes. Clients consistently call upon us to navigate the complex regulatory arena, based on our strong history leading development projects through City of Boston reviews. Additionally, VHB brings nearly three decades of experience providing Massachusetts Port Authority (Massport) with transportation planning and design, permitting, sustainability, and environmental services at Logan Airport, Worcester Airport, Hanscom Airport, Conley Terminal, and Massport's South Boston and East Boston commercial land holdings. Since several Seaport development parcels are Massport-owned, our in-depth familiarity collaborating with Massport has enabled us to efficiently navigate processes.
Here are some recent VHB project highlights from the Seaport District:
Seaport Circle | Massport Parcel H
VHB is working with Lincoln Property Company on the construction of a development named Seaport Circle, located at 701 Congress Street. The project will construct a 13-story laboratory/office building totaling 587,000 square-feet, a two-story job training/non-profit center on an adjacent parcel totaling 16,000 square-feet, and an elevated walkway that connects the two buildings and surrounding properties. Additionally, the project will include commitments to improve the Silver Line Way station as well as other significant public realm improvements. VHB is providing entitlement permitting services and our team is also managing the Massachusetts Environmental Policy Act Office (MEPA) and Article 80B review processes.
St. Regis Residences
The St. Regis Residences bring 124 condominium units and 10,700 square-feet of retail and restaurant space to the Seaport. This 22-story building, being developed by The Cronin Group, features an ultra-modern, curved design intended to evoke the shape of billowing sails. When complete, 150 Seaport Boulevard will encourage public access to the waterfront by opening views and providing the missing connection of the Boston Harborwalk between Pier 4 and The World Trade Center. VHB is providing site/civil and infrastructure engineering services for the project, addressing the many building interfaces with the public realm.
401 Congress | Massport Parcel A2
This mixed-use development will feature an 18-story office tower with two floors of publicly accessible space that connect the existing elevated viaduct of World Trade Center Avenue with Congress Street. This connection will include a staircase and elevator that is accessible to the public 24/7. The tower will include 535,000 square-feet of office space, 6,000 square-feet of retail space, 8,000 square-feet for cultural use, and 22,000 square-feet for public use. Its outdoor public realm consists of 10,000 square-feet along Congress Street and 40,000 square-feet along World Trade Center Avenue.
VHB provided professional permitting services in support of the development, including filings with MEPA and Boston Planning & Development Agency (BPDA). VHB has led the coordination and development of an Environmental Notification Form (ENF), Project Notification Form (PNF), and joint Draft Environmental Impact Report (DEIR)/Draft Project Impact Report (DPIR). VHB led the project team through a Final Environmental Impact Report (FEIR) and additional coordination with the BPDA. Additionally, VHB led the greenhouse gas emissions, air quality, noise, and cultural resources assessments.
VHB has also supported the following noteworthy Seaport District developments:
15 Necco
Seaport Square
Vertex Pharmaceuticals
Logan Airport
Commonwealth Pier Revitalization
South Boston Waterfront Transportation Center
Raymond L. Flynn Black Falcon Cruise Terminal
To learn more about our long-standing Boston relationships and project experience, or to discuss how our team can help move your development forward, please reach out to Elizabeth Grob.