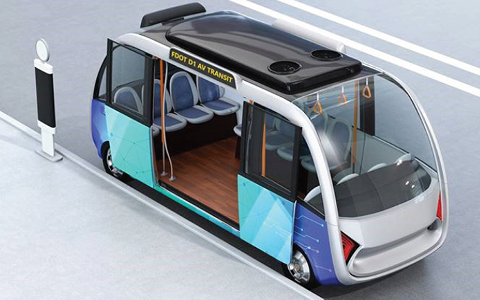 Population growth and tourism fuel Florida's economy and put hundreds more automobiles on its highways every day. Recognizing the impact technology and big data can have on Sunshine State travelers, the Florida Department of Transportation (FDOT) selected VHB to deliver two critical continuing services contracts that elevate safety via intelligent transportation systems (ITS), big data management, and connected vehicle technologies. The District 1 and District 5 Transportation Systems Management & Operations (TSM&O) continuing services contracts will make Florida roadways safer for moving people and goods throughout the state and streamline transportation initiatives for FDOT.
The scope of the Districts' TSM&O contracts mean VHB is a trusted advisor to FDOT to provide a wide array of innovative ITS technologies that significantly enhance efficiencies in measuring performance, managing multimodal transportation networks, and delivering positive safety and mobility outcomes to the traveling public.
FDOT is organized into eight districts encompassing different geographic regions of the state, each with its own District Secretary overseeing transportation administration, planning, and operations. D1 encompasses 12 counties in Southwestern Florida with 2.7 million residents, including cities like Sarasota and Fort Myers. D5 encompasses nine counties and 4.1 million residents in Central Florida, including tourist-heavy Orlando and Kissimmee.
These TSM&O continuing services contracts will expand on past programs and introduce new initiatives that elevate the use of technology and big data to solve complex transportation safety and mobility issues. VHB has a history of leading transformative, technology-enhanced programs for FDOT, including:
Creating and managing a Data Fusion Environment (DFE) Sandbox, a big data environment designed to store and provide access to billions of records, including real-time collected probe data, in near real-time. It includes user-friendly dashboards and maps used for FDOT district operations, planning, and prioritization efforts.
Establishing an Autonomous Vehicle (AV) shuttle pilot program in coordination with FDOT and local transit agencies to guide implementation and deliver the concept of operations to procure a technology vendor.
Developing automated software systems in combination with existing ITS infrastructure to aid in operations and reporting for improved safety and mobility.
Studying alternative intersection designs to improve safety and efficiencies. An example is the first-ever Continuous Flow Intersection (CFI) in Florida.
Conducting the Capability Maturity Model (CMM) with FDOT District 5 to assess strengths and weaknesses in the TSM&O program and serve as a robust framework for future TSM&O initiatives.
Developing MPO/TPO Master Plans to aid in future Integrated Corridor Management (ICM) program development and managing traffic during evacuation events.
"It is more important than ever that transportation providers deliver safe, future-focused roadways and transit solutions for a growing public that is increasingly connected to their vehicles via new technologies," said Joseph Perri, Southeast Region Transportation Technology/ITS Manager. "VHB is a leader in the evolution of TSM&O programs throughout the East Coast, and we are eager to build on past-successes with D1 and D5."
TSM&O programs have an impact on much of the state's transportation system, and harnessing big data and innovation is key to improving safety.
"VHB's integrated teams of transportation and technology-enabled consulting professionals allow for a holistic approach," said Matt Lamb, Southeast Regional Manager. "It's an important link of business planning with operations in TSM&O program development that allow data-rich environments to enhance measurement and reporting."
The TSM&O contract will advance current strategies and build on FDOT's advanced transportation management systems, integrated corridor management, traffic incident management, and community traffic safety teams.
In addition to the new TSM&O work with FDOT, VHB is also a subconsultant on the FDOT D1 I-4 FRAME project, which is the largest deployment of connected vehicle roadway technology in the country. For more information contact Joe Perri.