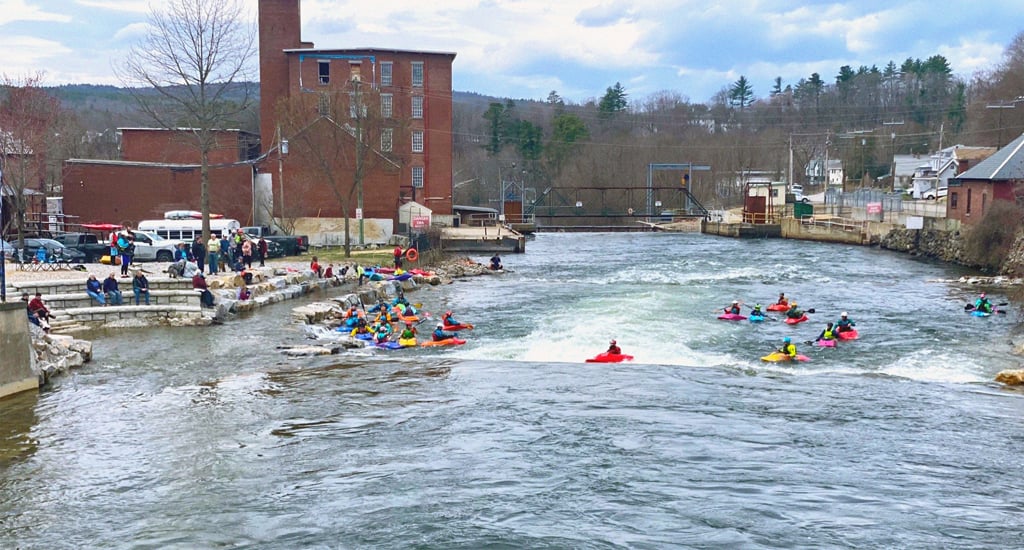 The City of Franklin, NH, is looking forward to the completion of a whitewater kayaking park on the Winnipesaukee River, the first of its kind in the northeast. The community-based project will construct three whitewater "standing waves" to allow year-round river recreation for kayakers and surfers. Located at Franklin Falls, the attraction is a component of Franklin's larger Mill City Park, which comprises a 13-acre land-based park, an adjacent 21-acre conservation area, with future plans for walking trails, a timber pavilion, and perhaps even a bike track, tent sites, rental cabins, and a climbing wall.
Plans for the whitewater park were launched as part of a series of revitalization and redevelopment efforts for the former mill town. The City aims to "Recreate, Revitalize, and Restore" Franklin by increasing local economic opportunity, improving quality of life, and building a better connected, equitable, and sustainable city. The Park is a public/private partnership between the City of Franklin and the nonprofit Mill City Park at Franklin Falls. Originating at the southern end of Paugus Bay in Laconia, NH, the Winnipesaukee River carries water westward from Lake Winnipesaukee through Opechee Bay, Winnisquam Lake, and Silver Lake in the towns of Belmont, Tilton, and Northfield before reaching Franklin. City leaders estimate that the free venue will bring in more than 160,000 visitors to the City each year and has the potential to attract $6.8 million of direct spending to the region.
Pete Walker, Environmental Services Principal and Project Manager at VHB, said, "I feel privileged to work with such a passionate group of visionaries who continuously strive to make a difference for their community. This project is not only about creating New England's first Whitewater Park, but also about developing a new and lasting community energy for the City of Franklin."
Driving the efforts and making visions come to life is Marty Parichand, Executive Director of Mill City Park. VHB has had the pleasure of working alongside not only Marty, but also City Manager Judie Milner and Project Manager and Designer of the Park, Mike Harvey. The VHB Team has supported Colorado-based designer, Recreation Engineering and Planning by conducting construction oversight as well as permitting support.
Save the date for the upcoming 4th Annual Winni River Day taking place on June 17 and 18, 2022. VHB is a proud sponsor of this event which will feature food, beer, vendors, bands, and of course plenty of paddling in the river! All proceeds from the event will go to Franklin's Whitewater Park.
To learn more about this exciting project and its plans to connect the community of Franklin to the river, please contact Pete Walker.