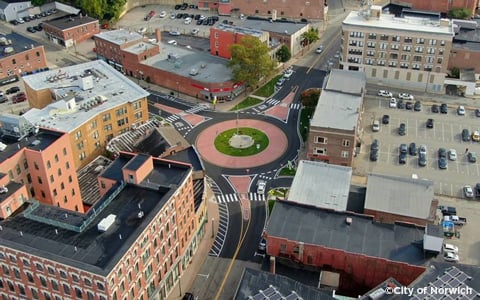 The Connecticut Society of Civil Engineers (CSCE) Section of the American Society of Civil Engineers (ACSE) awarded an Achievement in Civil Engineering Award (ACE) to the City of Norwich, Connecticut, and VHB for the Franklin Square Roundabout project. The awards dinner was held on May 26, 2022 and marked the 15th year that CSCE honored the design and construction achievements of Connecticut Civil Engineers and their team members.
The City of Norwich Public Works team had the vision to transform the Franklin Square signalized intersection into a modern roundabout to improve traffic safety, traffic operations, and circulation. This vision was developed by the City with an innovative concept at an urban intersection, changing the square to a roundabout. The City partnered with VHB to assist with an efficient design and specifications.
The VHB team delivered an innovative solution for a modern roundabout project at the intersection, which included reusing existing pavement, approaches, lighting, and the original flagpole. The project maintained business access and intersection operations during construction, added parking to the downtown business district, improved traffic flow, and enhanced pedestrian safety.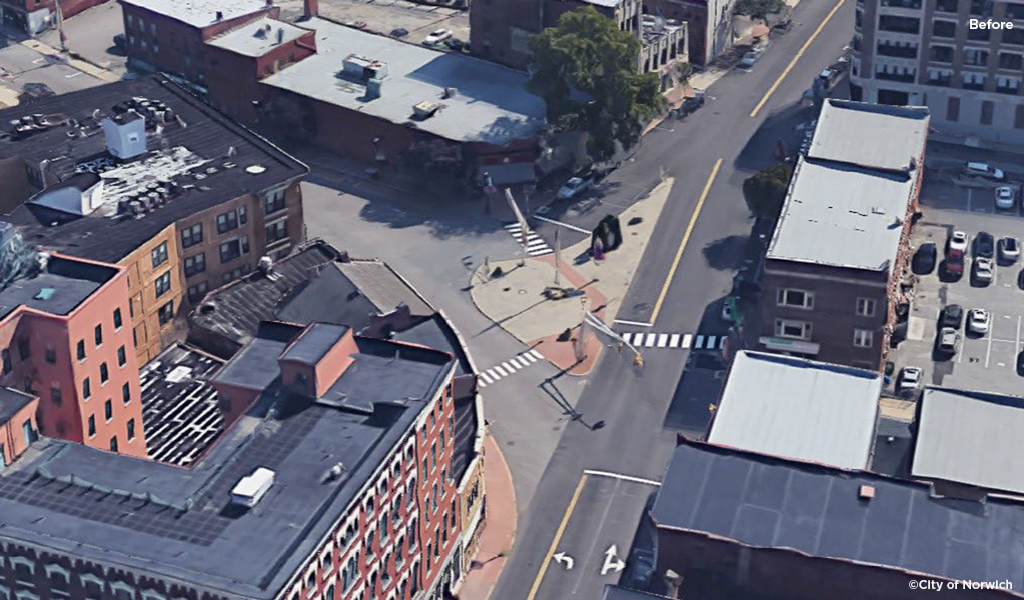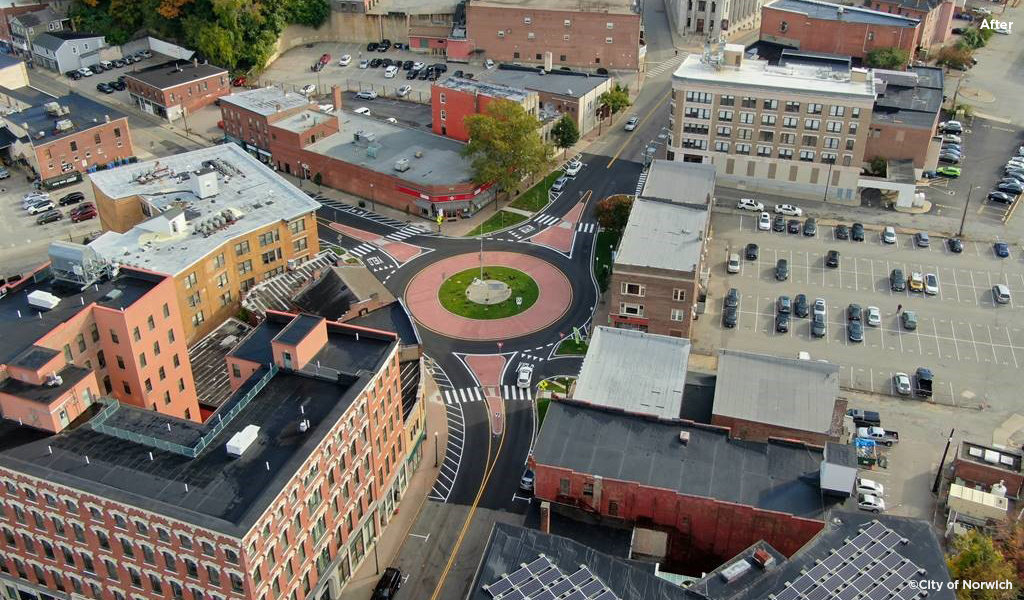 This project is a prime example of how modern roundabouts can be constructed in Connecticut for comparable cost to traffic signals when the project team works toward the common goal of lower cost, minimal design, and construction leading to limited impacts.
"While roundabouts have been completed in other locations throughout the state, this was the first roundabout in the City of Norwich," said Patrick J. McLaughlin, PE, the Director of Public Works for the City of Norwich. "The benefits of this project will undoubtedly be applied to future roundabout design projects in Connecticut."
The CSCE Section of the American Society of Civil Engineers (ASCE) aims to enhance the professional growth of its individual members, the advancement of engineering knowledge, the maintenance of high professional standards, to promote Civil Engineering education, to foster student membership and participation and cooperation with other engineering societies, in a manner consistent with the objectives of ASCE.
To learn more about the Franklin Square Roundabout, contact Joe Balskus, Director of Transportation Systems.