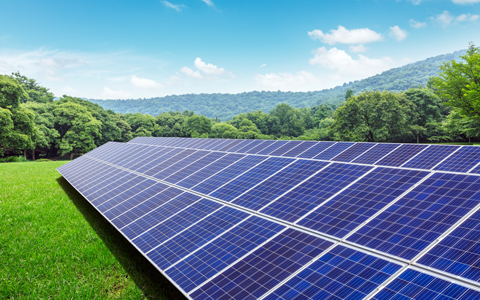 In 2017, Connecticut's Department of Energy and Environmental Protection (DEEP) awarded Greenskies Clean Focus with the Waterford Solar Farm project to support the State's clean energy initiatives. Operations commenced in April 2023 with approximately 44,000 bifacial solar modules situated on 94 acres of underutilized land previously logged under a forestry operation. The result is a solar system that produces enough low-cost, locally generated renewable energy to power more than 3,700 homes.
Steve Kochis, Project Manager at VHB, contributed to the success of the project. Greenskies recently quoted Neal Williams, former CT DEEP inspector, who applauded Steve, saying, "This was a challenging build given the site's topography coupled with multiple heavy rain events during construction, but I can say after inspecting the site that the completed project looks fantastic! From Steve Kochis' engineering plans right up to the post-construction site visit, everyone brought their A-game to this project. A lot was riding on this one, and Greenskies really hit it out of the park. Great work."
The Waterford Solar Farm is featured on the Sept./Oct. 2023 cover of North American Clean Energy Magazine. Read more about the Waterford Solar Farm Case Study on the Greenskies website.
Learn more about how VHB can support your next solar project by visiting our renewables page.