The Hillside Court Playground+ in Richmond, Virginia, won two awards at the 2022 Golden Hammer Awards celebration: Best Placemaking and Urban Design and the Teen Choice Award. Hosted by Historic Richmond and Storefront for Community Design, the awards program recognizes excellence in neighborhood revitalization projects throughout the Greater Richmond area. Phase I of Playground+ includes new basketball courts which formally opened in late fall of 2021 and honors Sharmar "Simba" Hill Jr., who was killed by a stray bullet in February 2020 while playing outside at his home in Hillside Court.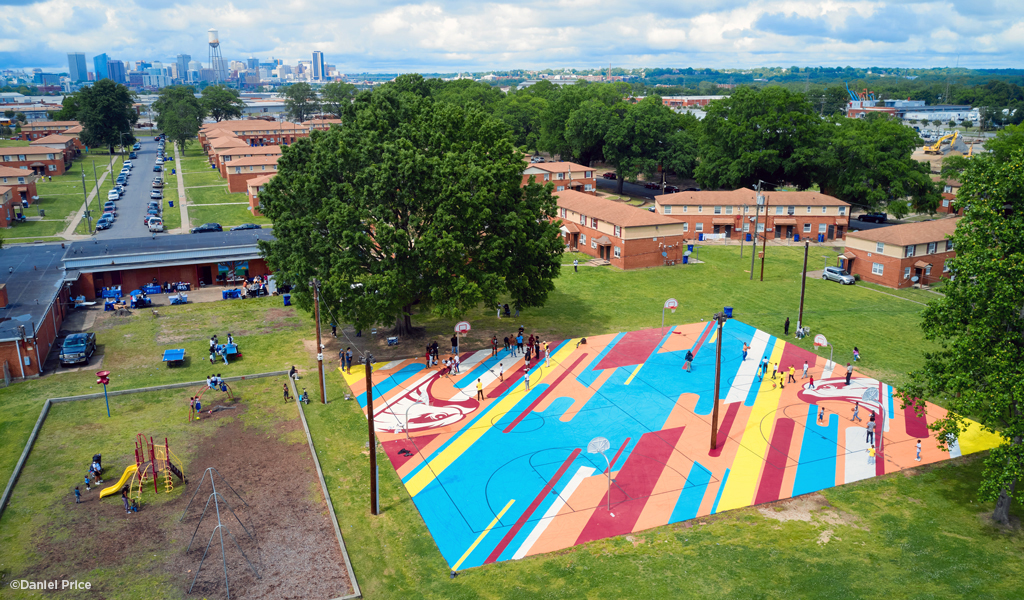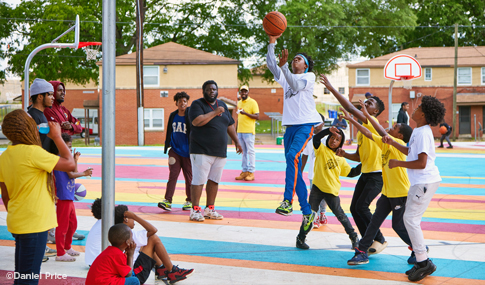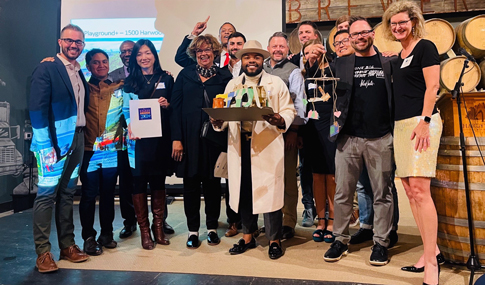 As a partner to Hanbury who led the project efforts and Fall Line who provided landscape architecture, VHB donated site and civil engineering services to the project that, when complete, will also include a playground, walking trails, and additional gathering spaces.
"I did not hesitate to say yes when approached by Nick Cooper at Hanbury to participate in this project," said John Carty, Land Development Manager. "When a tragedy of such magnitude occurs close to home, investing in placemaking like Playground+ is important to help a community heal. It's been a powerful experience to volunteer for the project and experience how our work as engineers can contribute to healing and well-being in Simba's memory."
The basketball court is the first phase of a larger revitalization project that includes a new playground, a community gathering space, walking trail, and an additional public art exhibit. As part of the project, the design team enlisted the help of local artist Hamilton Glass to create a mural on the new courts. Together, more than 50 residents and community members gathered for more than 50 volunteer hours to help paint the striped design that also incorporates the apartment community's hawk mascot.
"Playground+ has helped reinvent a space that is the heart of the Hillside Court community," said John. "This is their common area—a gathering place for families and neighbors. The project puts people and connection at the core."
To learn more about the Hillside Court Playground+ project and opportunities to help for the second phase, contact John Carty.