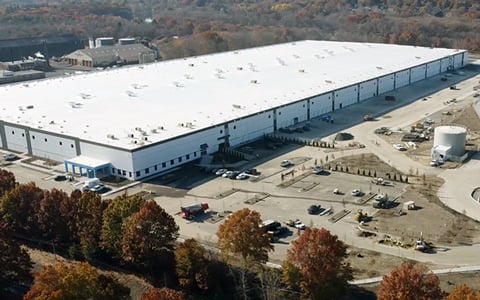 Seefried Industrial Properties, a privately owned, nationally recognized leader in industrial real estate, recently completed a new 775,000-square-foot market operations center for The Home Depot. The multi-million-dollar supply center houses parking for up to 295 tractor trailers and 79 loading dock spaces to support The Home Depot's supply chain by focusing on same day/next day bulk delivery to construction job sites. This will alleviate pressure from local retail stores and improve the overall customer experience.
The building was constructed on a 120-acre parcel spanning three municipalities with excellent accessibility to I-495. VHB led the civil engineering and permitting efforts for this large-scale development. Balancing the bylaw and ordinance requirements of the three municipalities—Billerica, Tewksbury, and Lowell—as well as the Massachusetts Environmental Policy Act (MEPA) and state agency review, VHB navigated a path through the permitting phase and into construction. The site design was sensitive to the adjacent protected Concord Riverfront area and surrounding wetland resources.
"We worked with the developer to understand land use, environmental frameworks, and the regulatory environment to minimize risk and maximize the value of the site," said Conor Nagle, VHB Project Manager. "We studied the site from all angles and conducted all necessary due diligence to provide a smooth development process for the client."
The VHB team worked closely with the project's general contractor, Integrated Builders, to guide the project to completion to the satisfaction of the developer and their tenant.
To learn more about this development, or our Industrial Development capabilities, contact Conor Nagle.