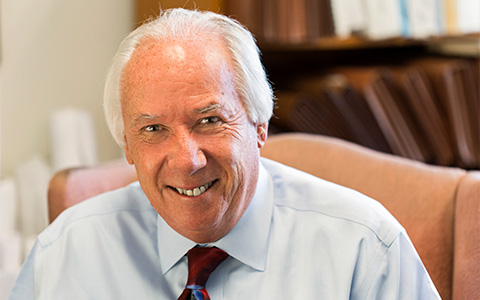 It is with heavy hearts that we say goodbye to John Kennedy, one of VHB's founders with a distinguished 52-year history of leadership and tremendous accomplishments in the AEC industry. John was one of four young, ambitious engineers—a group that included Rich Hangen, Bob Brustlin, and Bill Roache—who shared a bold vision of what an engineering firm could be.
The firm they envisioned would be built on values, including integrity and exceptional quality—and in their own words, it was ultimately built on friendship and trust in each other.
"We had a great deal of respect for one another and confidence in each other's abilities. We knew that together, we could do something good," reflected John during an interview regarding VHB's 40th anniversary.
Rich Hangen, fellow co-founder shared: "When I think about significant events in my life, my first meeting with John in 1971 was one of them. It began a relationship which not only defined who I was but who I would become."
The bonds and the culture that the founders established, along with the company's core values and generational company model, remain the bedrock of the company today, as VHB has grown to 1,900 people in 30+ offices along the East Coast.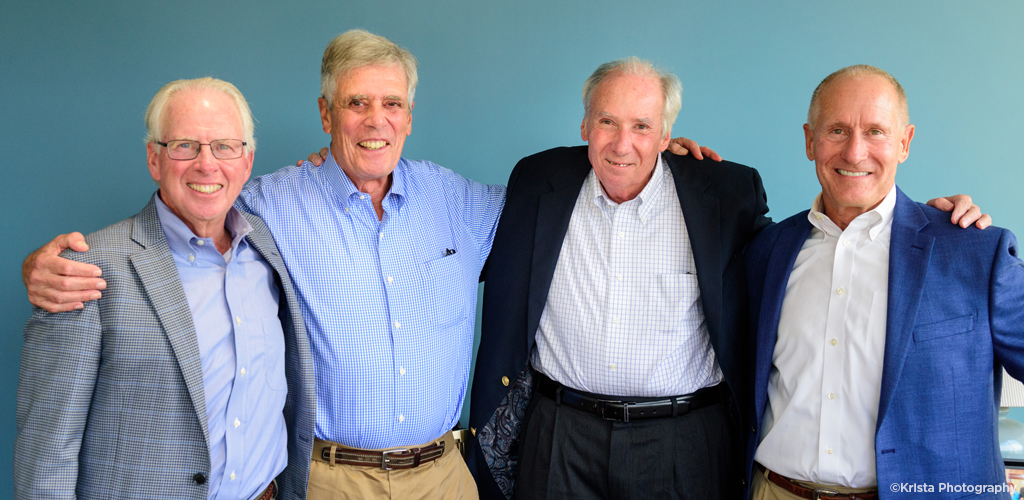 From VHB's first small office on High Street in downtown Boston, John helped to set the bar for quality, ensuring that every project submission was first rate. Several VHBers from the early years recall people lining up outside of John's office waiting to have him check their plans and make sure they were ready to go out the door.
John's expertise in traffic operations was foundational to the firm's success. Soon after VHB was formed, planning began for Boston's massive, $8B Big Dig. The project threatened to wreak havoc not only on commuters and businesses, but on Boston's long-term economic prospects. John's technical leadership and foresight in maintaining traffic operations throughout the city helped alleviate these fears and kept traffic flowing for more than 15 years as each section of the project was constructed.
Of that project, John commented, "It was essential to understand how every aspect of the project would affect traffic patterns and driving conditions. We had to ensure total coordination among various contractors and government agencies."
"When the Big Dig started, there was so much doom and gloom about whether the city could actually build it without bringing Boston to its economic knees," said Rich. "All those forecasts never materialized, and I think a large part of it had to do with John, who became a trusted advisor on the project and solved one heck of a lot of traffic problems through the staging and construction process."
"John's creativity in figuring out how to make things work, how to maximize road capacity, is a huge piece of where VHB's reputation was built," reflected co-founder Bob Brustlin.
Echoing Bob's sentiment, fellow co-founder Bill Roache said, "John was the most creative transportation engineer I have ever known. He always seemed to find the right unique solution to any transportation or traffic operations design challenge, no matter how complex."
Other signature achievements in John's career include playing an integral role in Massachusetts' first design-build project, the $385M widening of a 23-mile freeway, and subsequently providing traffic management strategies for MassDOT's Fast14 project. John also served several terms on VHB's Board of Directors throughout his career.
In addition to building VHB's success, John was also an energetic participant in industry organizations. John had more than 40 years of active membership in the Institute for Transportation Engineers (ITE), ranging from elected leadership positions at the chapter, section, district, and international levels; committee work; publication review; and service on the Coordinating Council. John was elected Vice President of ITE in 2014 and President in 2015. As President, John led the search for a new ITE Executive Director and CEO—ITE's first executive leadership change in more than 40 years. In 2017, ITE honored John for his decades of industry leadership with the organization's Burton W. Marsh Award for Distinguished Service.
"John was not only a big-picture thinker, helping to advance the profession he loved—he was also passionate about mentoring young professionals across VHB. "John cared so deeply about helping engineers grow." said Keri Kocur, Chief People Officer.
Reflecting on John's impact, Don Cooke, Regional Transportation Services Leader shared: "John will be incredibly missed for his friendship and his mentorship. For so many, myself included, getting the opportunity to work alongside and learn from John was a career goal and highlight. He always made time for everyone, and his technical insight and expertise were unmatched. I was privileged to have someone of John's caliber as a mentor, and my career, as well as the careers of countless others, were greatly influenced by John."
John also loved helping people understand personal financial planning and spent decades championing and educating people about the firm's 401(k) program and the importance of saving for retirement. John's impact as VHB's long time 401(k) Plan Administrator cannot be overstated. He not only steered one of VHB's core benefits, but helped generations of VHBers secure their long-term financial futures.
This outlook over a long horizon underpins one of the founders' proudest accomplishments—establishing VHB's generational company model, with ownership transferred to successive generations, each responsible for strengthening and improving the company before again passing the torch.
"As I look at the way ownership has been passed down," reflected John on the company's 40th anniversary, "and the way people have been willing to step up and take responsibility for maintaining VHB's legacy, I think it's absolutely spectacular."
VHB President and CEO Mike Carragher shared: "I had the fortune of sitting next to John for about 10 years. I learned so much about the soul of the generational company during those years—and the idea that we are all responsible for lifting each other up to help live this ideal going forward. Like our founders, and VHBers past and present, I'll take John's legacy forward with me."