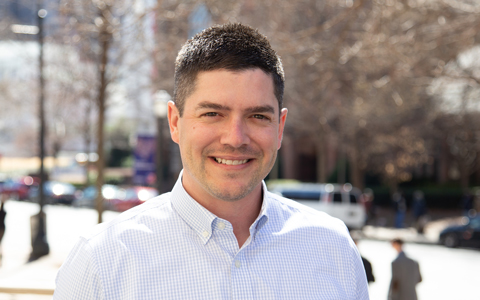 VHB welcomes Jason Dickerson, PE, to their Atlanta office as State & Local Government Market Leader. In this new role, Jason will be instrumental in positioning VHB's integrated team of transportation, environmental services, and planning and design professionals for continued success serving public sector clients across Georgia and the Southeast Region. A well-regarded industry leader, Jason will identify new business opportunities and will help expand transportation and traffic operations services to state and local governments.
Clients and industry peers trust Jason to help grow their practice and be a key resource for technical oversight and project management, especially on traffic operations projects, where clients need leadership in technology, data, and innovation to address their most critical mobility challenges. Clients and VHB will benefit from Jason's leadership and more than 15 years of experience in business development and transportation engineering, including serving as a vice president for a national engineering firm where he was responsible for driving strategic growth throughout the Southeast in transportation and infrastructure for government clients. Jason understands the critical issues facing today's Departments of Transportation. His experience as a transportation engineer for the Alabama DOT provided a strong background in moving critical roadway construction projects forward through the project life cycle, from managing multiple contractors to mentoring field staff.
"Jason has strong industry relationships and a keen understanding of how to motivate teams to meet the unique transportation demands facing public clients in diverse metro regions like Atlanta," said Steve McElligott, PE, Transportation Agencies Market Leader. "His commitment to clients and regional know-how will help grow our presence in Georgia and help us deliver safe and innovative mobility solutions across the state."
VHB Atlanta has more than 70 professionals collaborating in transportation planning and design, transit studies, community planning, and environmental services in projects across Georgia. In his new role, Jason will help position VHB as a go-to transportation provider to public sector clients who partner heavily with consultants to solve Georgia's complex transportation projects.
"Our Atlanta team is excited about the future, especially with an unprecedented number of new projects and state and federal funds earmarked for transportation improvements," said Fabricio Ponce, PE, Managing Director-Atlanta. "It's imperative that local governments are prepared for the challenge. Jason will help take VHB and our clients to the next level and grow transportation operations in Georgia through partnership and innovative project delivery."
Jason is a licensed professional engineer in Georgia and Alabama and holds a Bachelor of Civil Engineering degree from Auburn University. Well-respected amongst his peers, he is an active member of the Georgia Institute of Transportation Engineers (ITE), Intelligent Transportation Society (ITS) Georgia, and American Council of Civil Engineers (ACEC), where he serves on the Georgia Partnerships for Transportation Quality (GPTQ) traffic subcommittee. He was selected for the inaugural ACEC Georgia Engineering Leadership Institute and is both a graduate and past chairperson of ACEC Georgia's Future Leaders program.
To learn how VHB can help on your next transportation project, connect with Jason via email or Linkedin.
Learn more about VHB Atlanta.