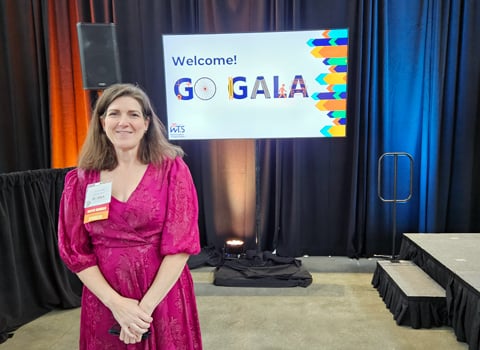 Women in Transportation (WTS) North Carolina (NC) Triangle chapter presented Jenny Fleming, PE, with a Circle of Excellence Award at their 25th anniversary Go Gala celebration this week—a distinction that has only been presented on two other occasions in the chapter's history. Jenny has dedicated much of her two-decade-long career to growing the chapter and increasing the chapter's outreach and reputation through her work with the fundraising committee. She has also played an instrumental role planning the last three Southeast Rail Forum conferences, increasing the local chapter's reputation on a National level.
"We are incredibly proud of Jenny, who truly deserves this distinguished recognition," said Reggie Scales, Managing Director in Raleigh. "Jenny's unwavering dedication and outstanding contributions to WTS, our community, and the industry are a testament to her talent and commitment to excellence. This award is a well-deserved recognition of her hard work and achievements, and we are lucky to have her as a leader at VHB."
As Mid-Atlantic Water Resources Director, Jenny focuses on creative and innovative solutions that address water resource issues and improve our communities for a more resilient future. In addition to her leadership at VHB, Jenny has been a WTS NC Triangle Chapter member since 2011 and immediately became involved as fundraising chair. She has also held positions as the NC Triangle Chapter President and the WTS International Southeast Regional Chair, and currently serves on the Board as Director at Large. Jenny's dedication to WTS Triangle Chapter have increased volunteerism, membership, and outreach for the chapter. She is also an active board member of NC GO, an advocacy group dedicated to planning for the future of transportation in North Carolina and was named to Leadership Raleigh by the Raleigh Chamber of Commerce.
Learn more about Water Resources at VHB.