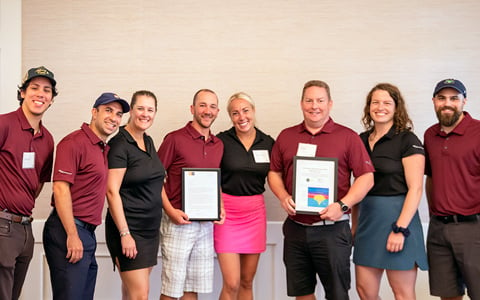 This fall, 112 VHBers, friends, and clients participated in the 30th annual VHB Jimmy Fund Golf Tournament, held at the Pinehills Golf Club in Plymouth, MA. The event raised over $60,000 for Boston's world-renowned Dana-Farber Cancer Institute, bringing VHB's cumulative donations to the Jimmy Fund to over $1.5 million. A companion event—the Frank O'Callaghan Memorial Golf Tournament—was held in June by our New Hampshire team at the Pease Golf Course in Portsmouth, NH, and raised more than $31,000.
"It was wonderful to get together with colleagues, friends, and sponsors to support this incredibly worthwhile cause," said Bill Ashworth, VHB's Chief Operating Officer and a long-time supporter of the Pinehills event. "It makes me very proud that we've raised over $1.5M for the Jimmy Fund over the past 30 years."
As a firm founded on stewardship and a belief in giving back to our communities, VHB is proud to sponsor these two golf tournaments and matches all donations by VHBers. The events are part of VHB's larger portfolio of charitable programs, headlined by the annual VBay auction and fundraiser. VHB Cares, the company's philanthropic employee resource group, has raised over $4M for charitable organizations since its founding in 1984, and VHB is regularly recognized for charitable giving efforts across our footprint.