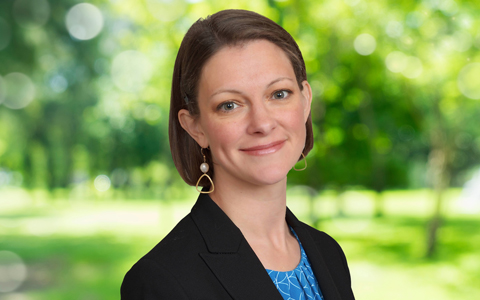 VHB welcomes Kate Lindekugel as Senior Aviation Environmental Planner for the VHB Environmental Planning Team and the VHB Aviation Practice. In this role, Kate will further grow VHB's prominence in the airport sector, particularly with aviation environmental, regulatory compliance, and sustainability initiatives.
With more than 20 years' industry experience as a senior environmental consultant and project manager, Kate joins VHB from a national provider of architecture, engineering, and consulting services, where she led teams serving aviation, surface transportation, municipal, and private sector clients. Kate identifies and resolves environmental compliance and sustainability planning challenges associated with large building developments and infrastructure programs, but she also supports clients with improving routine facility operations, institutional program development, and long-term growth planning. Kate assists airports with developing proactive environmental programs that integrate regulatory compliance with operational sustainability and adaptability, natural resources restoration, and long-term resiliency. In addition, Kate also specializes in Clean Water Act (CWA) Compensatory Mitigation Bank permitting and design, wetland delineations, natural channel design (NCD) stream restoration, threatened and endangered species surveys, and peer reviewed scientific research.
"Kate's technical expertise in water quality, biological resources, and regulatory compliance will assist us in developing new lines of business," said Kristen Bergassi, Director of Environmental Planning, VHB. "She has successfully led teams to complete projects on time and within budget, and we look forward to having her continue to advance our sustainability, resiliency, and equity initiatives at VHB."
Kate's prior experience also includes research at Arizona State University and Clemson University, serving as a Water Quality Program Specialist and Interim Lakes Program Coordinator for the Arizona Department of Environmental Quality, and as a water quality specialist for the U.S. Army Corps of Engineers, Savannah District.
"We are so excited that Kate has joined our team," said Fin Bonset, Director of Aviation Services, VHB. "Along with her incredible experience in aviation, she brings a wonderful infectious energy that we need to execute our many exciting projects and pursue new business interests."
With a strong background in biology and chemistry, Kate graduated from Clemson University with Bachelor of Science and Master of Science degrees in Biological Sciences. She is currently pursuing her Professional Wetland Scientist (PWS) certification as well.
Connect with Kate via email or on LinkedIn.
Visit our Aviation page to learn more about VHB's solutions-driven approach, and our Environmental page for more information about our services.